Mass. city commends cops for buying gas, food for stranded family
The officers were honored at a city council meeting after they used their own money to help a pregnant woman in need earlier this month
---
The Daily News of Newburyport, Mass.
NEWBURYPORT, Mass. — Newburyport police Officers Charles Vorderis and Michael Falite were awarded letters of commendation during Monday's City Council meeting for helping a stranded family earlier this month.
"A police officer's job description can change dramatically from one day, or even one call, to the next," City Marshal Mark Murray said in a statement. "In this instance, these officers encountered someone who simply needed a helping hand, and I'm proud of Officer Vorderis and Officer Falite for stepping up to provide this family with some much needed support."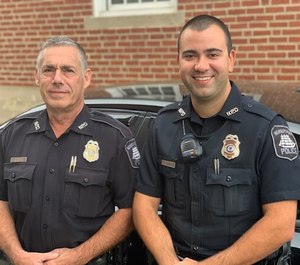 The officers responded to the area of Storey Avenue on Sept. 6, after receiving word of a medical emergency involving an infant in a car parked on the center median.
When they arrived the officers realized there was no medical emergency, but learned the driver was in need of help. She was traveling from Maine with her four children and was bound for a relative's home in New Jersey when trouble arose.
The mother, who was pregnant, told the officers she was running low on gas and had pulled over to ask for money.
After determining her children were well cared for, the officers used their own money to fill the woman's gas tank and provide food for her and her children. They also provided her with information about resources for additional support before sending the family on their way to complete their trip, according to Murray.
©2020 The Daily News of Newburyport (Newburyport, Mass.)
McClatchy-Tribune News Service