Md. officer saves suffocating 10-day-old baby
A K-9 officer helped save a newborn after she stopped breathing
---
By Police1 Staff
WALDORF, Md. —  A Charles County sheriff's K-9 officer rescued a suffocating 10-day-old baby, FOX 5 reported.
Officers and paramedics were called to a home July 31 to reports of a newborn who had stopped breathing.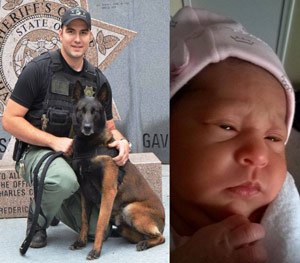 When Officer Darin Behm arrived, he found baby Dana turning blue. The officer attempted to clear her airway with a finger sweep, but she continued to be unresponsive. 
He then placed his mouth over the baby's nose and mouth. By gently sucking, Behm was able to remove a large chunk of baby formula combined with thick mucus from the baby's throat.
The baby began breathing again and was taken to the hospital as a precaution. She was discharged several hours later.
The child's mother was thankful to the officer and he received high praise on the department's Facebook page.
"It's a child. You'd do anything possible for a child," Behm told WJLA.