Mich. officer hurt on job reinstated after public outcry over firing
Officer Bob Stump was seriously injured in a vehicle crash two years ago, and a community wasn't going to let that sacrifice be forgotten
---
By Sarah Sinning
DEWITT TOWNSHIP, Mich — A police officer who was fired after being seriously injured on the job has been reinstated following a large public outcry, the Lansing State Journal reports. 
Officer Bob Stump was fired last month, just over two years after, according to police, a suicidal woman rammed her vehicle head-on into the officer's cruiser during a pursuit.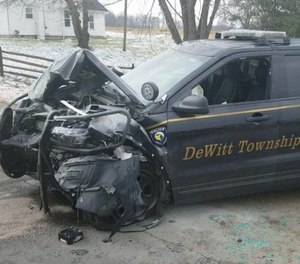 Stump had been on medical leave since the January 2020 crash and was waiting for a hip replacement surgery to be completed so he could return to work. According to his wife, Molly, the officer's hip socket was shattered in the accident, but because of pandemic- and other workers' compensation-related delays, the procedure wasn't scheduled until May of this year.
And then, making matters even more stressful for their family, Officer Stump was unexpectedly called into the township manager's office and fired, Molly said. 
"It was made clear that he was costing the township too much money and that he had become a financial burden," she wrote in one of several heartfelt posts on Facebook, which quickly received hundreds and comments and shares among community members.
Molly also wrote an open letter to the DeWitt Township Board of Trustees about her husband's firing, in the hope, she explained in another post, that "other officers in his position do not endure the lack of respect and appreciation that he did."
"It is devastating to look back over the past two years and consider how Officer Stump spent them in tremendous pain, jumping through hoops in an attempt to get back into the service of your constituents — and to realize that it all meant nothing," Molly wrote to the board. "The impact of his efforts to protect and save the lives of your constituents over his 14 years of service is immeasurable. You cannot put a price tag on what he has done and what he has sacrificed. Or maybe you can. It seems that DeWitt Charter Township has deemed his worth to be very measurable — he apparently holds no value at all."
A community comes to the officer's aid
At the township board meeting Monday night, however, the tide began to turn for Officer Stump and his family. At the "emotionally charged" meeting, Molly said, people she and her husband didn't even know came out to speak in the officer's support. 
"It was incredible to see the amount of people there in support of Bob and wanting to change what happened," she said.
And change it they ultimately did: "He was sworn back in as an officer," Molly said, "which is what he deserved."
The board also said they would extend his roster status with the department for another year once they can verify his hip surgery.
"We are hopeful for the future," Molly said.