Officer drives 12 hours to return dog to family after fatal collision
After a family lost their daughter in a tragic accident, police wanted to reunite them with her pet
---
By Police1 Staff
DOTHAN, Ala. — A fatal spring break collision ended with a happy reunion, FOX 5 reported.
Sgt. Jonathon Whaley and another officer responded to a fatal single-vehicle collision on March 19 after a car veered off the road into a telephone pole. The driver, 19-year-old McKenzie Amanda Grace Catron, was pronounced dead at the scene and her passenger was sent to a hospital.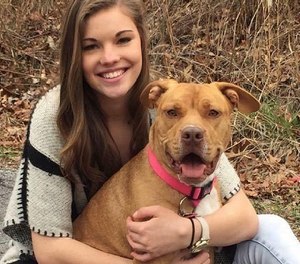 Catron's pit bull, also in the vehicle, was scared and fled the scene. Whaley felt it was his personal duty to find the family's dog.
"We were going to do whatever we needed to do to reunite this dog with this family," Whaley told the news site. 
Police were joined by community members and formed a "Help Find Kai" Facebook page.
After days of search, volunteers spotted the scared pup and had to pursue it for over a mile before they could get her to come close enough to grab her collar.
After being taken to the vet, Whaley and his wife Ashley made the 12-hour trip to reunite the Arkansas family with Kai.
"I felt that God impressing on me that we needed to make this trip," Whaley told the news site. "I just know if I were them I would want the last tangible thing of someone I loved."
The family's "spirits were lifted" after the dog returned home.
The passenger still remained in the hospital. Community members and police have reached out to her family as well to see if there is anything they need.