Officer helped others as his home burned after gas blasts
The officer stayed on the job even after his bosses told him to leave
---
By Bob Salsberg
Associated Press

LAWRENCE, Mass. — Ivan Soto's home was engulfed by flames, but the police officer was too busy helping other residents evacuate after a series of natural gas explosions to worry about his own loss.
After making sure his family was safe, the Lawrence officer rushed back out to help others — and stayed on the job even after his bosses told him to leave.
On Friday, little remained of Soto's home, one of dozens that were damaged by the fiery blasts in three communities north of Boston that killed a teenager and injured at least 25 others.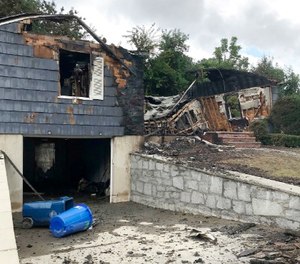 Blackened debris in the driveway and singed siding on a neighbor's home spoke to the intensity of the fire.
One of Soto's daughters was the only person home when the blaze started Thursday. She ran across the street to the home of Christel and James Nazario and was crying hysterically, Christel Nazario said.
"Smoke started pouring out of the basement window," she said. "The house started smoking and then it was just engulfed in flames."
Soto arrived a short time later and told the Nazario family they had to evacuate because there were gas explosions in the city, the couple said. But then he went back to work, Nazario said.
"He actually stayed on duty even though his house was burning down" Nazario said. "I don't know how he did it."
Nazario did not know the fate of several cats the family owned.
Sgt. John Dushame said Soto wanted to keep working, even after he learned that his own home was ablaze.
"We relieved him. But he didn't want to leave," Dushame told The Eagle Tribune. The rookie officer and his wife have two daughters, ages 13 and 15, the newspaper said.
There was no sign of Soto or the family Friday, though a large police and fire presence remained. A GoFundMe page set up for his family had raised more than $28,000 by Friday afternoon.