'Our prayers have been answered': How N.Y. police rescued missing 9-year-old girl
Investigators were able to identify a fingerprint from a ransom note allegedly left by the suspect, who was in a database from a 1999 DWI case
---
By Darian Stevenson
syracuse.com
GANSEVOORT, N.Y. — A 47-year-old man is in custody after Charlotte Sena — a 9-year-old girl who went missing at a state park in Saratoga County — was found hidden in a camper cabinet Monday evening.
Charlotte was taken to an area hospital, but she was safe and healthy, troopers said.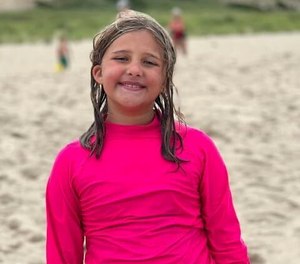 Gov. Kathy Hochul held a news conference Monday night to describe how the girl was found and the man taken into custody.
A ransom note left in the mailbox of Charlotte's family home in the town of Greenfield is what led officers to her abductor, Hochul said. The man had pulled up to the mailbox in front of the Sena family home, leaving a note inside, she said.
The note had fingerprints on it, which assisted authorities in tracking down a suspect, Hochul said. The suspect's fingerprints were in law enforcement database. Around 2:30 p.m., officers matched a fingerprint to that of a man arrested for a DWI in 1999 in Saratoga, she said.
From there, officers found a home where the man — Craig Nelson Ross Jr. — was living, Hochul said. The home was only two miles away from Charlotte's home in Greenfield.
Around 6:32 p.m. Monday, officers found a double-wide home with a camper parked behind it where Ross lives, she said.
Troopers moved in and Ross resisted arrest, the governor said. Troopers said he sustained minor injuries during the scuffle.
Charlotte was found covered inside a cabinet inside the camper. Charlotte appeared to not physically be harmed, but was taken to a hospital, Hochul said.
Charges have not been filed against Ross, but they're expected. Contrary to earlier reports, Ross is not a registered sex offender. They also said it is not known at this time whether Ross knew Charlotte or had her under surveillance for any length of time.
"It's been a long two days but tonight our prayers have been answered," Hochul said.
Charlotte was reunited with her mother, father and two sisters — 4 and 10 years old.
The governor thanked the State Police and others "who worked so tirelessly to find Charlotte. It is because of their efforts that Charlotte will be able to return home safe to her family."
"Often these stories don't end up like this — every second is key," Hochul said. "There's a lot of pressure and split decisions are made. It's not just a life is hanging in the balance, it's an innocent child's life is hanging the balance."
More than 400 police officers, firefighters and other certified search and rescue personnel looked for the fourth-grade girl who went missing Saturday night in Moreau Lake State Park in Gansevoort in Saratoga County.
The missing girl was headline news nationally. Hochul came to the park and also met with the girl's parents.
On Saturday, Charlotte was riding her bicycle with her cousins around a loop at the park, and she decided to ride the loop an additional time by herself. She was last seen around 6:15 p.m. Saturday.
When about 10 minutes passed and Charlotte didn't return from her ride, her parents started looking for her.
Law enforcement search efforts began around 7 p.m. Saturday. State police issued an Amber Alert Sunday. The search continued Sunday and Monday.
Charlotte was with her family for a camping weekend at the park. They live in the nearby town of Greenfield in Saratoga County.
Charlotte was just elected as an officer for her school's student council at Corinth Central Elementary School. She and her family were having a typical day of camping, the governor said.
—
©2023 Advance Local Media LLC. Visit syracuse.com.
Distributed by Tribune Content Agency, LLC.
McClatchy-Tribune News Service