Pa. chief shot 4 times at close range when he was killed, DA says
Brackenridge Police Chief Justin McIntire was struck by four bullets, two of which were fired through the back of his head while he was down
---
By Megan Guza
Pittsburgh Post-Gazette
PITTSBURGH — Brackenridge Police Chief Justin McIntire was gunned down at close range on the afternoon of Jan. 2, struck by four bullets, two of which were fired through the back of his head while he was down, according to a harrowing account of the events laid out by the district attorney Friday.
The details brought to light the sequence of events that led to McIntire's killing and the history of Aaron Swan Jr., who killed McIntire before Swan was ultimately shot and killed by Pittsburgh police hours later.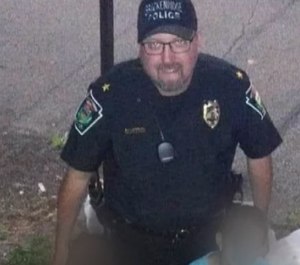 District Attorney Stephen A. Zappala Jr. provided a detailed timeline of the events over the course of Jan. 1 and 2, when police across Allegheny County were told to look out for a vehicle being driven by Swan, who was wanted on weapons and fleeing charges. Zappala also outlined Swan's criminal past and his past run-ins with police.
McIntire, 46, was shot and killed as he pursued Swan on foot through the neighborhood. Police from multiple departments had been attempting to take Swan into custody for several days.
Investigators have referred to McIntire's killing as an ambush-like attack in which he walked between houses and was confronted by an armed Swan. Swan, 28, was later shot and killed by Pittsburgh police after investigators say he opened fire on officers pursuing him.
Zappala during the news conference showed a still image taken from McIntire's Taser video camera as he pursued Swan. The image shows Swan turning a corner with his gun pointed at McIntire, who had the laser of his Taser aimed at Swan's midsection.
Swan fired two shots — one that hit McIntire in the wrist and one in his buttocks, causing him to fall. Swan then fired two more shots through the back of McIntire's head that the medical examiner estimated were fired within 15 to 18 inches of his head, Zappala said.
The search for Swan began late in the morning on Jan. 1 after a Pennsylvania State Trooper spotted a black Honda speeding south on Route 28 near Cheswick. The trooper ultimately cut short the chase in the interest of public safety and later identified Swan as the driver.
The next day, a Harrison officer spotted the Honda at a Freeport Road convenience store and gave chase. Swan ditched the Honda and escaped on foot. Later, he and another man were spotted near where the Honda was recovered in Brackenridge.
For an hour, McIntire and other officers searched the neighborhood until the chief spotted Swan shortly before 4:15 p.m. Officials have said the chief was by himself when he radioed his position — Swan had darted between houses in the 800 block of Third Avenue — and noted he had a black bag that could contain a gun.
Other officers found the chief shot to death about 15 minutes later in the same place he had said he was starting the foot pursuit.
(c)2023 the Pittsburgh Post-Gazette
Visit the Pittsburgh Post-Gazette at www.post-gazette.com
Distributed by Tribune Content Agency, LLC.
McClatchy-Tribune News Service