Slain L.A. County sergeant 'was the best of us'
Officers from across the US came to pay their respects to fallen brother Sgt. Steve Owen
---
By Cindy Chang and Corina Knoll
Los Angeles Times
LANCASTER, Calif. — They arrived in shades of blue, green, tan — with proud shoulders and weary faces. Many knew well the man whose body lay in the black hearse escorted into a Lancaster church parking lot.
Many did not.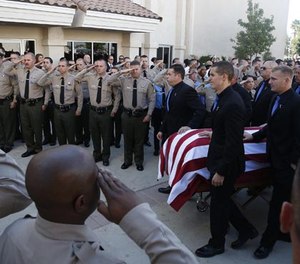 Still, they had traveled from as far as Chicago and New York to pay tribute to a brother gunned down in what the sheriff of Los Angeles County had called a "calculated execution."
Some wore black bands across their sheriff's badges emblazoned with six digits: 258449.
It was the badge number Sgt. Steve Owen had worn during a nearly three-decade career with the Sheriff's Department _ before his life was stolen by five gunshots during a routine burglary call.
"He wasn't just one of us. He was the best of us," Deputy Greg Whalen of the Lancaster sheriff's station, Owen's home base for most of his career, said Thursday. "He was the guy we all wanted to be."
The 53-year-old's funeral at Lancaster Baptist Church, although closed to the general public, drew hundreds Thursday, with many watching the services on a monitor in an overflow tent.
Shortly after 10:30 a.m., Owen's casket, draped with an American flag, emerged from the hearse. Eight pallbearers, each in a black suit, flanked the sides.
Nearby stood Max, Owen's sable-colored horse, his saddle stirrups clutching his former rider's boots.
Led by a bagpiper whose tasseled cap swayed in the breeze, the group slowly moved down a path made by sheriff's deputies, their hands raised in a crisp salute.
Inside the packed church, the crowd hushed as the casket made its way down the aisle. Handkerchiefs appeared, tears were wiped.
From the pulpit, Pastor Paul Chappell addressed the room.
"Steve was a man's man, he was a cop's cop, he knew his tactics, he was a great investigator and a great leader who influenced the lives of many in this community and throughout this region," he said.
"He loved his lord, he loved his family, he loved this community and he will be truly missed by everyone who knew him."
A large man with soft blue eyes and a memorable grin, Owen had been an equestrian and gardener, planting plum trees, peppers, garlic, cilantro.
He was a skilled water skiier and avid camper and spent hours of his spare time coaching football and volunteering in the area.
"He made me feel like the most special girl in the room," Owen's wife Tania wrote in a eulogy that was read aloud by a family member.
"On our days off he would make me coffee and on Sundays he would bring me breakfast in bed and we would sit together and he would read the Bible to me. ... Trying to describe the love I felt for Steve is like trying to count the stars. It would be endless and I would always be trying to find more."
Known across town for his tough talk but kind heart, Owen chose to patrol the streets of his Antelope Valley community rather than take a desk job.
Sometimes, mothers who had witnessed Owen arresting their sons would thank him afterward for the respectful way he worked.
"He would always say it was about protecting people, protecting the community, taking the bad man to jail," said Detective Mark Donnel, who also works at the Lancaster station.
Among the throng of law enforcement officers who had gathered to escort Owen's body from the station to the church was Officer Michael Weiss of the New York Police Department.
Weiss, whose hat and shirt were decorated with plaques bearing Owen's 258449, shook hands with sheriff's deputies, telling them he was sorry for their loss.
Officer George Kuzmanovski of the Chicago Police Department said he had arrived to show support for the slain sergeant's family as well as the Sheriff's Department.
"We know what it's like to lose a good officer. It doesn't matter where it happens," he said.
Standing in front of a memorial of balloons, candles and handwritten tributes at the Lancaster station, L.A. County Sheriff Jim McDonnell said anti-police sentiment was at a high point.
"I hope this is a wake-up call to reconsider where we've been and chart a new path forward," he said.
Owen was gunned down Oct. 5 as he responded to a burglary call near an apartment complex. The gunman wounded Owen, then stood over him and shot him four times, according to McDonnell.
Trenton Lovell, 27, has been charged with murder and other crimes in connection with the killing.
McClatchy-Tribune News Service