Texas chief dies in motorcycle wreck
Floyd Simpson, 51, became the city's first black police chief when he was hired in March 2012
---
By Krista M. Torralva, Chris Ramirez
Corpus Christi Caller-Times
CORPUS CHRISTI, Texas — The community mourned Corpus Christi Police Chief Floyd Simpson, as an investigation into the motorcycle crash that claimed his life got underway.
A somber Mayor Nelda Martinez at a news conference Sunday night said Simpson was loved by many and would be deeply missed.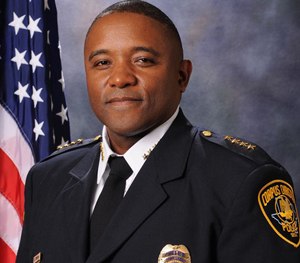 "Hearts are heavy today. We've lost a great public servant in Chief Floyd Simpson," Martinez said.
Simpson was riding his motorcycle alone in the 4900 block of State Highway 361 in Port Aransas when he was involved in an accident, Corpus Christi Police Cmdr. Michael Alanis said.
"He was ejected from the motorcycle and sustained injuries there at the scene," he said.
Simpson, who was wearing a helmet, was taken to Corpus Christi Medical Center Bay Area Hospital. It was there that he died about 5:40 p.m.
City Manager Ron Olson appointed Assistant Chief Michael Markle, who is now in his 26th year on the force, to serve as interim chief.
The Port Aransas Police Department is handling the investigation, along with the Corpus Christi Police Department's traffic investigation team and the Texas Department of Public Safety's Accident Reconstruction Team.
Olson and Martinez were among the crowd of people that rushed to the hospital.
"He loved people, and people loved him," Martinez told the Caller-Times. "We always saw him with a smile on his face."
Martinez said he would want the public to know his mission was to take care of people.
"We're just heartbroken, but I know he would want for us to move forward and make sure that we continue to take care of the people that he loved so much," Martinez said.
Simpson, 51, became the city's first black police chief when he was hired in March 2012. He succeeded Troy Riggs, who stepped down to accept a job as assistant city manager over public safety.
Before that, Simpson, a married father of three, was an assistant police chief in Dallas, where he operated police academies in that city and oversaw the department's hiring process.
Simpson also was an avid motorcyclist. He belonged to a motorcycle club in Dallas and often took his Harley-Davidson to the Dallas-Fort Worth area to visit family.
In 2007, Simpson organized an annual charity motorcycle ride in Dallas with his riding club, The Iron Knights. They raised about $10,000 to help send children with sickle cell anemia to a summer camp to learn how to manage the blood disorder and its symptoms.
Late Sunday, Port Aransas Police Chief Scott A. Burroughs released additional details about the crash.
He said Simpson was riding his motorcycle south on Highway 361 behind a white car. A 16-year-old Port Aransas High School student driving a Ford F-150 pickup north crossed the centerline. The white car drove off the road, and Simpson laid down his bike. He was wearing a helmet, but it dislodged and his head hit the highway, causing a "serious head injury which will likely be the fatal injury," Burroughs said.
No one was criminally charged as of late Sunday night, Burroughs said.
Burroughs worked closely with Simpson on spring break preparation and law enforcement as well as hurricane preparedness plans. He praised Simpson for being innovative and including small-town agencies.
"It's a very sad day for all of us," Olson said. "We're all still in shock over the events of today."
Officers wore black bands across their badges at the downtown police station. Alanis thanked those who have reached out with condolences from across the nation.
Law enforcement from around the globe also has reached out. A bouquet of yellow roses was left on Simpson's parking spot at headquarters.
Nueces County District Attorney Mark Skurka said the city has lost a great leader and man.
Simpson also had the respect of predecessors.
Henry Garrett, former mayor and police chief, said Simpson had accomplished so much during his tenure.
"This community's lost a real leader and a real outstanding police chief who had already done a lot of things and had a lot of things planned," Garrett said. "Floyd was very good about prioritizing the issues and dealing with them."
Markle served most of his career in the department's Uniform Division, and spent seven years on the SWAT team, according to the city's website. Markle also has served as a field training officer and as the criminal investigations commander before becoming assistant chief.
"This ... is a very professional police department, and we will continue to be so," Markle said. "We will continue marching down the road Chief Simpson set for us and maintain the course of transparency to the public, and we will keep providing the professional service we have been providing."
Copyright 2015 the Corpus Christi Caller-Times 
McClatchy-Tribune News Service