'True heroism:' 9 LEOs honored with Medal of Valor awards
Two NYPD officers who were ambushed and killed while responding to a call, as well as the rookie cop who took down the gunman, are among those who will be honored
---
By Colleen Long
Associated Press
WASHINGTON — Two New York Police Department officers ambushed and killed after responding to a 911 call and the rookie cop who took down the gunman were honored Wednesday, along with six others, by President Joe Biden with the Medal of Valor, the nation's highest honor for bravery by a public safety officer.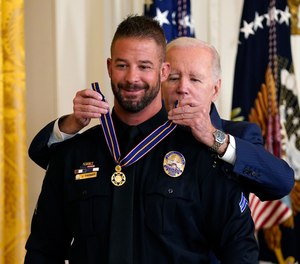 The three NYPD officers, a Houston police officer, Colorado police official, Ohio sheriff's deputy and three FDNY firefighters all received medals in a White House ceremony.
"I don't know all of you, but I do know you," Biden said. "From small towns to big cities, you're cut from the same cloth. You run into danger when everyone else runs away from danger."
Biden told the crowd the award was given for "actions above and beyond the call of duty," singling out the families of the officers to thank them.
NYPD officer Wilbert Mora and his police partner Jason Rivera were shot Jan. 21, 2022, while responding to a call about a family dispute in a Harlem apartment. Officer Sumit Sulan shot and killed the gunman, ending the deadly encounter moments after it began. Rivera died that night, Mora was pronounced dead four days later. The families of the two officers accepted their awards.
The fallen cops were no strangers to tensions between the NYPD and some of the communities they police; they'd both seen it growing up. Both sought to be catalysts of change when they became police officers, but neither got the chance they deserved, gunned down during a spate of shootings of police officers in 2022 in the city.
"I think one of the hardest jobs in America, what you signed up for," the president said Wednesday as he presented the medals. "You represent the best of who we are as Americans."
Rivera, 22, had been a police officer for barely a year. Mora, 27, was in his fourth year on the job. All three were promoted to detective — the fallen officers posthumously and Sulan in a ceremony where he was given detective shield No. 332, a symbol of the three from the 32nd precinct where they worked in Manhattan.
The nation's largest police department has roughly 35,000 officers; the next largest is Chicago with 13,000.
Attorney General Merrick Garland said the recipients showed "extraordinary valor" above and beyond the call of duty.
"At the end of every shift, you are there," he said to the families. "It is your care and encouragement that makes it possible for our public safety officers to do their jobs. We are so grateful to you."
Biden also honored three New York City firefighters for the bravery, including Lt. Justin Hespeler, who rescued a newborn baby from a burning house. "That's true heroism," Biden said.
Firefighter Patrick Thornton who, aboard an FDNY boat, saved a man trapped under a capsized vessel in the waters off the coast of Staten Island was also honored, along with retired Lt. Jason Hickey who was on the FDNY's marine training unit when he got a distress call of a man in the Harlem River, a tidal strait that flows swiftly between the Hudson and East Rivers. Hickey jumped in and saved the man from drowning.
The other recipients are:
— Corporal Jeffrey Farmer of the Littleton, Colorado Police Department. Farmer was responding to a call of shots fired possibly out of a car window, and chased the suspect to the door of an apartment where the man opened fire, hitting Farmer's partner. Farmer worked to fend off the shooter, then, realizing an ambulance was too far away, dragged his partner into his police car and drove him to the hospital himself, saving his life.
— Deputy Bobby Hau Pham of the Clermont County, Ohio Sheriff's Office. Pham saved a drowning woman who had driven her car into a lake, though he could not swim.
— Sergeant Kendrick Simpo of the Houston, Texas Police Department. Simpo was working a second job at the Houston area Galleria mall when he heard on the radio a heavily armed man wearing a black mask was roaming the mall, near where a group of children were gathered for a dance competition. Simpo tackled the suspect who was carrying an AR-15 rifle, handgun and 120 rounds of ammunition. No one was injured.