University police officers honored for saving a life after powerline accident
Officer Brett Morava and Lt. Glenn McCune have used an AED not once, but twice to save lives in the last few years
---
By Police1 Staff
MEDFORD, Mass. — Two officers with the Tufts University Police Department received awards last month for saving the life of a man who went into cardiac arrest after a power line accident in August. 
According to Tufts University, the man was working on a high-power electrical line when he was injured by an electrical arc explosion. His heart stopped.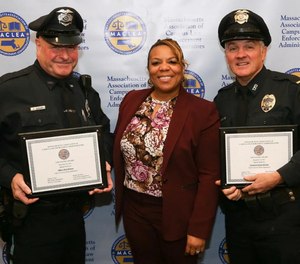 Fellow crew members quickly flagged down a passing university employee who contacted police. Officer Brett Morava and Lt. Glenn McCune arrived with an AED and were able to get the patient's heart beating again with an electrical shock. 
"We felt relieved that we were able to be a small part in the long chain of emergency responders, and that we were able to all work together and save a person's life," said McCune in a statement. 
Morava and McCune received a Lifesaving Award for their efforts. That's the second time they've received that award in four years. They also received the Lifesaving Award in 2018 after using an AED to save a Tufts employee who had gone into cardiac arrest. The employee lived and recently retired, according to the report. 
McCune says that CPR had been performed on both patients prior to the AED, but it was the defibrillator that made all the difference. 
"It was only after we got the AED units that we were able to bring people back—and the AED has been used successfully on other campuses as well," McCune says. "Brett and I had the AED on our last two calls for patients in cardiac arrest, and both people survived." 
Yolanda Smith, executive director of public safety at Tufts University, praised the officers for their actions. 
"They both felt their acts were all in a day's work to assist someone in need. While that might be true, their dedication and representation of Tufts University are commendable and deeply appreciated," Smith said in a statement.