U.S. Capitol Police Officer Eugene Goodman breaks his silence
Goodman speaks about his fellow officers' restraint and the complexities of his newfound fame
---
By Suzie Ziegler 
WASHINGTON — Eugene Goodman, the U.S. Capitol police officer who has been hailed a hero by many for protecting lawmakers during last year's Jan. 6 attack, is speaking out for the first time. On Monday, Goodman broke his silence with an interview on the podcast "3 Brothers No Sense." 
In his first interview since the attack, Goodman describes the police response on Jan. 6.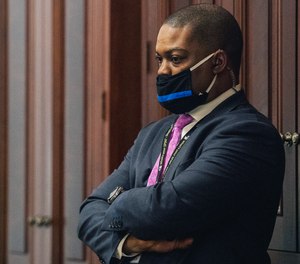 "It could have easily been a blood bath," Goodman says on the show, reports ABC News. "So kudos to everyone there that showed a measure of restraint in regards to deadly force, because it could have been bad." 
Goodman found himself in the national spotlight after a viral video showed him leading an angry mob away from the U.S. Senate chambers. Reporters described Goodman as using himself as bait to get the rioters' attention. 
[RELATED: Video: Lone Capitol police officer faces down mob to save lives] 
"Any situation like that you want to de-escalate, but at the same time you wanna survive first," Goodman says on the podcast. 
Goodman's actions would later earn him a Congressional Gold Medal and a position on Vice President Kamala Harris' inauguration security detail. 
Despite all his accolades and accomplishments, Goodman has largely kept quiet. Speaking on the subject of his fame, Goodman says he wants to protect his family's privacy. 
"I keep asking myself that question every day like who the hell am I?" Goodman says on the podcast. "I'm the guy everybody keeps saying saved the Senate. I don't need no statue, though, that's one more thing for a bird to prop up and take a dump on." 
"3 Brothers No Sense" describes itself as a show about relationships, politics and Black culture. It has three hosts, one of whom is U.S. Capitol Police Officer Byron Evans, according to ABC News. 
Listen to the full interview here: