Waitress thanks police officers for saving her life
A pair of Phoenix police officers on a meal break at their usual diner immediately noticed something was wrong
---
By Suzie Ziegler 
PHOENIX, Ariz. — A couple of regulars at an Arizona diner were sitting down to breakfast, like always, when they noticed their waitress was acting strange. Luckily, the diners were a pair of Phoenix police officers who immediately recognized a medical emergency, according to AZFamily.com. 
The officers ignored their server's objections and called in medics. Later, the waitress learned she might have died if not for the officers' intervention.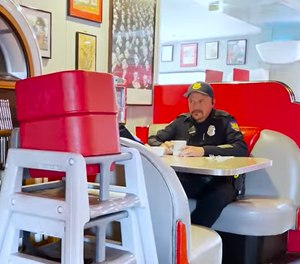 "They noticed something off about her and recognized that it might be medical," said Ryan Ladden, the diner's manager, in an interview with AZFamily.com. "She is very stubborn, and, I think since they know her, they called medical to check her out just to be safe. EMT showed up and determined she needed to be transported. It turns out she had fluid around her heart, and doctors told her that if it wasn't taken care of in 24 hours, she might have died." 
Ladden says the officers are regulars and are very familiar with the morning waitstaff. 
"We never thought it would be possible that ordering coffee or a chicken fried steak would actually save somebody's life," said one of the officers, identified as Tony.
"She was totally different than what we normally deal with," the officer continued. "You just could see the way she was walking around, and it was just totally off. At one point, we saw her actually sit down and started complaining about some pain in her back." 
The waitress, identified by police as Holly, is back at work and doing much better. 
"I'm stubborn," she said. "I wouldn't have called. I would have went home and went to bed, tried to sleep it off, but then I found out that wasn't a good idea." 
"As they were loading her up, she actually turned to us and said, 'I will deal with you two next week,'" said Tony. 
Nonetheless, she thanked the officers for saving her life.