Federal report: Hiring, retention still among top struggles for Baltimore police
A consultant recently released a report saying the department needs to hire 300 more officers to adequately staff patrol
---
Jessica Anderson
Baltimore Sun
BALTIMORE — The Baltimore Police Department's critical shortage of officers continues to slow internal affairs investigations, contributes to low morale and is delaying many of the reforms required under a federal consent decree reached nearly three years ago, a recent report says.
The department's "discouraging figures" continue to show that more officers leave the department than join it, according to a semiannual report released Tuesday by the independent monitoring team overseeing the consent decree. Despite a very public recruitment effort, Baltimore actually finished 2019 with 31 fewer officers than when the year started. The monitors — made up of lawyers, policing and civil rights experts — wrote that ongoing challenges to staffing will have staggering effects on overall reforms.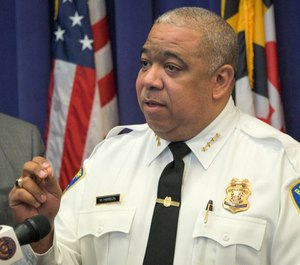 The monitors wrote that anticipated gains in recruitment and retention "have not yet materialized and remain largely conceptual." A consultant hired under terms of the decree recently released a report concluding that the department needs to hire 300 more sworn officers and 100 civilians to adequately staff patrol, and other critical areas, such as internal affairs.
The latest monitoring team report comes a day before officials from the city, the police department, the U.S. Department of Justice and the monitoring team are expected to provide an update to U.S. District Judge James K. Bredar, who is enforcing the decree.
Neither the head of the independent monitoring team nor a police spokesman responded to a request for comment Tuesday.
The consent decree was reached between the city and Justice Department in April 2017 after a federal investigation found officers routinely violated residents' civil rights, especially in predominantly poor black neighborhoods. The consent decree, with requirements that have taken some cities up to a decade to meet, mandates improvement on how police interact with youths, respond to residents with mental disabilities, and deal with protesters and respond to sexual assault victims.
The consent decree also requires the department to make sure it has enough officers to support the reforms and policing duties.
The department launched a marketing campaign last summer that significantly increased applications but has yet to translate into new hires, Commissioner Michael Harrison has said. The delay stems from candidates having to undergo an application process, including a fitness test and background check. To help reduce that time, the department has partnered with Kentech Consulting to conduct background checks.
The shortages are also forcing department leaders to make difficult staffing decisions, including potentially eliminating some units based on findings by the independent consultant.
"It is expected that a good deal of political will be required to fully implement the Staffing Plan," the monitors wrote. "Functions and units may have to be cut back, eliminated or relocated. Personnel may need to be reassigned. Civilians may replace sworn personnel in certain assignments. Recruitment and hiring efforts must be sustainably improved, and attrition must be reduced. Additional fiscal resources may be required to satisfy the Plan's recommendations."
The problem has also contributed to low morale, according to the monitors. A survey of officers found staffing to be a top concern.
"Participants believe that, due to staffing problems, officers are often promoted too quickly," the monitors said.
Overall, the monitors warned that the progress BPD has made so far is positive but the work will only get more challenging.
"The BPD is still in the 'easy part' of the reform process—policy revision, training, self-evaluation, planning. BPD has yet to prove that it can do the 'hard part,'" the monitors wrote.
In addition to an understaffed internal affairs unit, the department lacks critical technology upgrades.
It is expected to hire a vendor for a new Records Management System that supports electronic field-based reporting, although it likely won't be in full use for another two years, according to the monitors. The upgraded technology is needed, in part, to track the department's compliance with reforms.
A lack of technology improvements is also slowing down officers on the street.
The monitors noted that the department has begun using the Maryland State Police E-tix system during car stops, which saves them time.
But "not every patrol car is currently equipped with E-tix capacity—in fact, a majority of patrol cars still are not—but this change in practice should be beneficial for officers with patrol cars that do have such capacity," the monitors noted.
Training on the department's use of force policies is a critical part of the consent decree. A new Performance Review Board pilot program will review serious use of force incidents in an effort to improve policy or training. The board is made up exclusively of deputy commissioners.
The monitoring team is also expected in the coming months to do its own "comprehensive review of BPD use of force incidents and reporting," looking at incidents from 2019, monitors wrote.
Monitors also examined new policies that are meant to protect residents' First Amendment rights. The DOJ investigations found that officers routinely "were engaged in a pattern or practice of violating the First Amendment by routinely responding to oral criticisms, insults and non-violent provocations by using unreasonable force," the monitors said.
They cited recent incidents involving officer Arthur Williams and Sgt. Ethan Newburg, who "have been charged with crimes for using unreasonable force and bringing criminal charges in retaliation for the exercise of free speech rights."
Newberg, the monitors wrote, is "particularly troubling, because as an experienced first-line supervisor with 24 years on the job, he has been setting an example for potentially dozens of patrol officers."
Williams is no longer with the department. He was sentenced to nine months in prison on misconduct in office charges. Newberg's case is still pending.
The police department is expected to release its first annual audit evaluating how it has been following policies protecting First Amendment rights.
McClatchy-Tribune News Service