Police: NYPD retirement filings surge
"It is a troubling trend that we are closely monitoring," said Sgt. Mary Francis O'Donnell
---
By Suzie Ziegler
NEW YORK CITY — In just the last week, officials with the New York Police Department say retirement fillings have more than quadrupled what they were last year. 
Sgt. Mary Francis O'Donnell said the number of filings between June 29 and July 6 skyrocketed to 411% from the same time in 2019, according to CNN.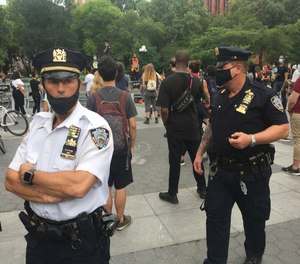 "While the decision to retire is a personal one and can be attributed to a range of factors, it is a troubling trend that we are closely monitoring," O'Donnell told CNN. 
The rise in filings comes as George Floyd protests continue and calls to defund the police mount. Mayor Bill DeBlasio slashed $1 billion of the NYPD budget earlier this month, about 16.7% of its budget in the 2020 fiscal year, according to CNN. The funds were reallocated to youth and social services. 
"Of course, cops are retiring at a higher rate," Chris Monahan, president of the Captains Endowment Association, told CNN Wednesday. "We've been abandoned by the NYPD and elected officials." 
A detective who's been on the force for over 25 years told CNN that New York cops usually can get their pension paperwork quickly when they file for retirement 
"Now it's more like a week wait," he said. "Every day the pension section sends out a notice of who went that day and filed. [It] used to be a page, maybe two the most. The other day it was six pages." 
Since May 25, the department has seen 306 retirements, 40 resignations and 503 have filed for retirements, according to O'Donnell. By comparison, 2019 saw 254 retirements, 49 resignations and 287 filed for retirement. 
Paul DiGiacomo, president of the Detectives' Endowment Association, says it's a real loss to civilians. 
"New Yorkers are losing their most experienced crime fighters because of continued violence in the city and the apathy of misguided elected officials," DiGiacomo told CNN. 
O'Donnell says no one who wants to file for retirement has been turned down, according to CNN.