U.S. Supreme Court offers bonuses, debt relief to lure police hires
High court personnel are showing up on college campuses, military bases and other venues to try to fill some of the force's many vacancies
---
By Mark Sherman
Associated Press
WASHINGTON — Supreme Court police officers last fall staffed a table at Washington's armory, where runners picked up their numbers and T-shirts for the Army 10-Miler road race. The officers were promoting an entirely different kind of competition, seeking to recruit new officers in a tight employment market.
High court personnel also are showing up on college campuses and military bases to try to fill some of the many vacancies on a police force that's charged with protecting the nine justices and the majestic marble building.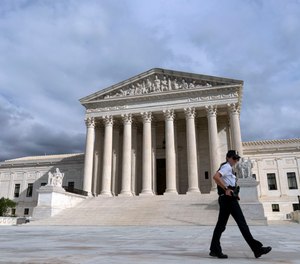 The struggle to find new officers is similar to staffing shortages facing police departments across the country. But it comes as the court copes with a rise in threats against the justices, including last year's arrest of an armed man outside Justice Brett Kavanaugh's house, following the leak of the draft abortion opinion overturning Roe v. Wade.
The court won't say how many jobs are open on a force with an authorized strength of 189 officers, although job postings say there are "many vacancies" for new and experienced officers. It would not make available either its marshal or its police chief for this story, and court spokeswoman Patricia McCabe said the court does not talk about security issues.
But one visible manifestation of the diminished size of the force is that, as the court has reopened in recent months from its coronavirus pandemic-induced closure, security officers with the U.S. Marshals Service have taken over some of the tasks previously handled by the police, including screening visitors when they enter the building.
It once was common to see justices around town without any police presence, shopping at local markets, attending cultural events or eating at Washington restaurants. But as security concerns have grown, the justices have acquired a relatively constant guard of officers dressed in suits when they travel to or from work or around town. At the court, police in uniform stand watch at various spots inside and outside the building.
The Supreme Court is offering a $5,000 recruitment bonus and another $5,000 within 18 months to some officers who transfer from another department. Congress recently authorized the court to grant student loan forgiveness, matching a perk that long has been available for officers with the U.S. Capitol Police. New hires with no previous law enforcement experience are paid a starting annual salary of $73,852.
Officers get four weeks of vacation after three years on the force and are eligible for retirement after 25 years of service, or at age 50 with 20 years of experience.
It's unclear whether those benefits will be enough in the nation's capital, where there are many separate police forces, including for museums, mass transit, parks, the postal service, the Capitol, Amtrak and several colleges.
That doesn't include the capital's main force, the Metropolitan Police Department, which is engaged in its own struggle to lure new officers. The Washington force advertised at bus stops and on local television in Philadelphia in the fall.
Nationally, the shortages have led to unprecedented incentives to be a police officer, like a $30,000 signing bonus for experienced officers to join Seattle's police department and a $7,500 bonus to entice officers in Portland, Oregon, to stay.
The number of police officers nationwide dropped by about 5,000 from the start of 2020 to the start of 2022. New recruitment has somewhat bounced back, according to a survey of about 180 departments done by the Police Executive Research Forum, though not to pre-pandemic levels.
In some places, entrance standards are changing to allow things like visible tattoos.
But not at the Supreme Court, according to job postings. No visible body markings are allowed on the head and neck above the uniform collar or on fingers and hands and fingers below the wrist bone.