PRESS RELEASE
New White Paper details validation process for Map360 bloodstain pattern analysis workflow
---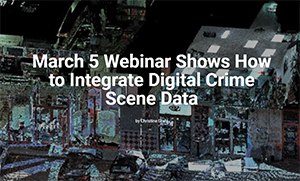 The use of computer aided software to analyze the area of origin of impact patterns is well accepted within the bloodstain pattern analysis community. What's less understood is the importance of integrating 3D point cloud data with bloodstain pattern analysis, specifically area-of-origin determination. Additionally, as new software workflows are introduced, it's important to understand the developmental validation of these workflows to have confidence in the process.
A new white paper, authored by Amy Santoro, MFS, CSCSA Senior Forensic Scientist, Crime Scene Investigations Johnson County Sheriff's Office Criminalistics Laboratory (USA), explores these topics in depth.
The document details the validation process for the Map360 bloodstain pattern workflow, specifically focusing on how the accuracy and reproducibility of area-of-origin determinations were evaluated. It explains how data was collected and analyzed, using the Leica ScanStation P40 and Leica RTC360 laser scanners, Leica Cyclone, and Leica Map360, as well as a standard bloodstain pattern analysis software for comparison.
The document provides evidence for how the validation results demonstrate that the bloodstain pattern workflow within Leica Map360 is a reliable methodology for area-of-origin calculations. Importantly, it makes the case for why Map360 with the BPA workflow is a useful and reasonable alternative to traditional hand calculations used by bloodstain pattern analysts and why Map360 offers advantages over existing software used in this field.
You can download the white paper here.
To learn more about how laser scanning and mapping software can improve your crime scene investigation process, please contact us.

Request more info from Leica Geosystems Inc.
Thank You!