How to buy a concealed carry backpack
The world is getting more dangerous every day and a concealed carry bag can let you carry the tools you need to help keep you and your loved ones safe
---
It's not always possible to carry all of the firepower you might need on your person while off duty without looking like Quasimodo. Or perhaps you are a plainclothes officer with a gun safe in your SUV who may be called upon to support an incident. Running down the street with an AR slung over your sportscoat might freak out more than a few citizens. This is when you need a concealed carry bag to carry the tools you need.
Here are five things to consider when choosing a concealed carry backpack.
1. Versatility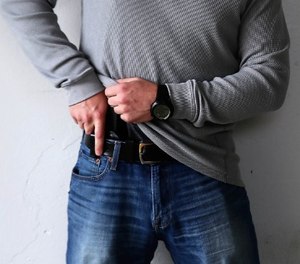 The ideal concealed carry backpack should be versatile enough for everyday use, while equipped with the tactical features you need to carry one or more weapons, plus accessories and additional gear. Most important, it should not scream "tactical" with firearms manufacturer logos, "kill them all" patches and MOLLE loops covering every square inch of it.
2. Style
Choose a bag appropriate to your style of dress. If you're in jeans and a T, a messenger or courier bag that can hold a laptop might be perfect to blend in to your surroundings. Whatever bag you select, ensure that your firearm or spare mags are not exposed to view except when you need to access them.
3. Space
Speaking of firearms and spare mags, you need to choose a bag that is designed to carry the firearm and accessories you want by your side when trouble hits. Depending on how far you want to take it, in addition to your weapon and spare mags, you may want to add other accessories like a flashlight, tourniquet, QuikClot dressing, pocket knife, strap cutter and gloves. Ensure the bag you select has enough space to keep everything organized.
4. Accessibility
The bag should hold your weapon and mags securely but yet offer easy access. Look for a pack with a dedicated pull handle so you're not fumbling to find a zipper when the adrenalin starts pumping. Just like you practice draw-from-holster, you should practice draw-from-bag until you build muscle memory that can save your life.
5. Disguise
Getting back to the plainclothes officer, you may need to go running down the street with a patrol rifle pulled from your vehicle's weapons safe. What if you could disguise yourself as a late commuter carrying a garment or exercise bag? Yes, they exist, and some can carry a full-size patrol rifle with a mag inserted along with a handful of spare mags and other support gear. Some even can carry a few changes of clothes – in case you need to discretely carry a patrol rifle into a hotel room for an extended deployment.
Conclusion
The key when purchasing a concealed carry bag is "low profile." Velcro and MOLLE mounting systems are fine to have in a concealed carry bag, but keep them on the inside, not on the outside. Before you lay down cash for a bag, make sure it is designed to carry weapons and has a dedicated weapon release to allow for a quick and accurate draw that won't accidently open. Check the bag's construction for both quality and to ensure you can carry it comfortably without giving away what you have inside.
The world is getting more dangerous every day and a concealed carry bag can let you carry the tools that you need to help keep you and your loved ones safe – even when you're not wearing a uniform.