Why police officers need PPE that serves and protects
Officers often fail to use proper protection from contact with dangerous drugs and other toxic substances
---
By Police1 Staff
Police officers come into contact with many dangerous substances on a daily basis.
As the opioid epidemic continues to ravage our nation, you don't have to look far for stories about officer exposure to illicit drugs on scene. In August 2017, 18 Pa. cops were hospitalized after possible fentanyl exposure and in December 2017, three Mass. police officers were possibly exposed to fentanyl.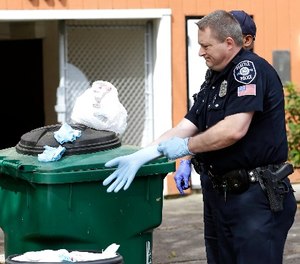 Cops may also have to assist or interact with individuals who are bleeding or covered with bodily fluids, risking potential exposure to infectious disease.
On September 1, 2017, San Diego County issued a health emergency in response to the local hepatitis A outbreak. The outbreak, which was spread person-to-person and through contact with fecally contaminated environments, resulted in 586 cases, with 401 hospitalizations and 20 deaths. The majority of people who contracted hepatitis A were homeless and/or illicit drug users.
In San Diego, where San Diego PD responds with its Homeless Outreach Teams, health officials washed streets with bleach in the most acutely affected areas and installed dozens of hand-washing stations to help prevent the spread.
In all of these situations, single-use gloves are a critical piece of personal protective equipment (PPE) for law enforcement.  
Surprisingly, a significant number of police departments opt not to provide gloves or officers choose not to wear them.  
Departments may feel that the added cost is not worth the expenditure and officers may choose not to wear cheap gloves that tear easily. It becomes a vicious cycle when police departments purchase the lowest-priced glove, and then officers are forced to use an inferior product that offers little protection.
How to select the right glove                       
With many glove options available, selecting the right glove for the challenges of the law enforcement can seem overwhelming. In some situations, choosing the wrong type of glove can be harmful to the individual. 
When selecting a single-use glove for optimum protection, look for these features:
1. Examination-grade
Examination-grade gloves are powder-free, single-use gloves that act as a reliable protective barrier against potentially infectious materials and other contaminations.   
2. High level of force of break
It is recommended that at least a 6 mil (at the fingertip) nitrile glove be worn to protect the wearer from tear and puncture. Six mil gloves offer a high level of force of break, which is the amount of force that it takes to puncture or tear a glove.
The force of break standard is based on CE testing criteria EN388, which assesses the amount of force required to pierce the sample with a standard size point.
3. Barrier protection
A high-quality, third-party, barrier-tested glove is essential to protect the wearer from accidental transdermal exposure to fentanyl, heroin and other dangerous substances.
4. Nitrile
Avoid latex gloves as individuals can experience allergies from the proteins that are found in natural latex. Also, latex doesn't create a significant protective barrier and can allow substances to absorb into the glove that eventually migrate to the wearer's skin. Nitrile examination gloves provide the best protective barrier against chemicals and blood-borne pathogens.
Conclusion
Today's first responders face serious threats from exposure to dangerous drugs and bloodborne pathogens. When thinking about personal safety, wearing high-quality, single-use nitrile gloves should be part of your daily uniform.