PRESS RELEASE
Streamlight® Launches Low-profile Enduro® Pro Headlamp
---
New, Multi-Function Headlamp Features Stylish Design, 200 Lumen Output
EAGLEVILLE, PA — Streamlight®, Inc., a leading provider of high-performance lighting and weapon light/laser sighting devices, launched the Enduro® Pro, a versatile, low-profile headlamp with a sleek design for outdoor enthusiasts, industrial professionals, and consumers alike. The new light offers three lighting modes to cover a variety of tasks, including: spot LEDs for focused, task lighting; flood beams for soft, area illumination; and red LEDs to preserve night vision.
The compact headlamp also offers effortless battery replacement, and a 45-degree tilting head for ultimate ease-of-use and flexibility. It uses two power LEDs and two Red LEDs for a total of eight output modes, three each for spot and flood and two for night vision.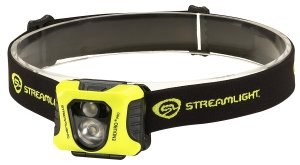 "The Enduro Pro is a cost-effective, multi-function headlamp that is right for every situation – from outdoor activities like boating or camping, to automotive and industrial repair jobs and DIY projects," said Streamlight Vice President, Sales and Marketing, Michael F. Dineen. "The multiple lighting options give users all the benefits of spot, flood and night vision lighting in one light that is also both stylish and comfortable to wear."
The light's multi-function push-button switch toggles between low, medium and high for the white output modes, and low and high for red. On high, the spot beam offers 200 lumens and 2,250 candela; the flood beam offers 135 lumens and 210 candela. The night vision features 0.37 and 0.08 lumens on high and low, respectively. Run times range from 6 hours on high to 38 hours on low.
The Enduro Pro uses three AAA alkaline or lithium batteries, which can be easily replaced by opening the light's rear cover, eliminating the need for tools. Users also can change the case color from black to safety yellow and back through the use of a snap-on cover. The new headband design is optimized for easy cleaning.
The headlamp features a case constructed from tough polycarbonate thermoplastic material with elastomer over mold, and unbreakable polycarbonate lenses. The light is IPX4 rated for water-resistant operation, and tested to two meters for impact resistance.
The Enduro Pro measures 1.85 inches high, 2.19 inches wide and 1.45 inches from front to back. It weighs just 3.4 ounces with alkaline batteries and 3.0 ounces with lithium cells.
The new light is also available in an industrial model that includes 3 "AAA" alkaline batteries, elastic and rubber hard hat straps, and 3M™ Dual Lock™ reclosable fasteners.
The Enduro Pro has an MSRP that ranges from $32.00 to $37.50 depending on the configuration, and includes Streamlight's Limited Lifetime Warranty.
About Streamlight
Based in Eagleville, PA, Streamlight, Inc. has more than 40 years of experience making tough, durable, long-lasting flashlights designed to serve the specialized needs of professionals and consumers alike. Since 1973, the company has designed, manufactured and marketed high-performance flashlights, and today offers a broad array of lights, lanterns, weapon light/laser sighting devices, and scene lighting solutions for professional law enforcement, military, firefighting, industrial, automotive, and outdoor applications. Streamlight is an ISO 9001:2008 certified company. For additional information, please call 800-523-7488, visit streamlight.com or connect with us on facebook.com/streamlight; twitter.com/Streamlight; instagram.com/streamlightinc; and youtube.com/streamlighttv.

Request more info from Streamlight
Thank You!