Federal agents had to pass polygraph tests to infiltrate Mongols gang
---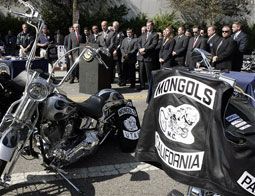 Los Angeles County Sheriff Lee Baca, at podium, speaks during a news conference Tuesday, Oct. 21, 2008, in Los Angeles. Dozens of burly, tattoo-covered Mongol motorcycle gang members were arrested Tuesday by federal agents in six states, including Washington, on warrants ranging from drug sales to murder after a three-year undercover investigation in which four agents successfully infiltrated the group. (AP Photo)
Related article:
L.A. raid targets Mongols motorcycle gang
By Thomas Watkins
Associated Press
WEST COVINA, Calif. — Weeks of drinking and carousing to win acceptance in a notorious motorcycle gang came down to a nerve-racking moment for three undercover federal agents: taking a polygraph examination in a room full of armed men.
Flunking could threaten what would become a three-year probe into the Mongols Motorcycle Club - not to mention the agents' own safety.
Federal prosecutors say all three Bureau of Alcohol, Tobacco, Firearms and Explosives agents were prepared for the challenge and passed the tests, critical moments in the investigation that culminated last week in multistate raids and at least 64 arrests on charges including murder, drug trafficking and torture.
The Mongols had been infiltrated before, so gang leaders went to extraordinary lengths to test their "prospects," including running background checks and having a private investigator administer the polygraph tests.
The Mongols ratcheted up pressure by standing directly behind the agents while they were hooked up to the polygraph, Assistant U.S. Attorney Christopher Brunwin said.
"Is it scarier to see the threat that is facing you, or ... taking a lie detector test while someone is standing behind you with a weapon?" the prosecutor said. "They could be getting ready to shoot."
Each agent had been given all they needed to assume a new life - an apartment away from their family, a new Social Security number and a cover story. They had also been trained to pass the lie detector.
"It's a remarkable undertaking that the agents whose lives were at risk displayed this level of courage," Brunwin said.
In all, four ATF agents were accepted into the Mongols "brotherhood," though one agent was not required to take a polygraph test. Officials did not say why.
John Torres, the ATF agent in charge in Los Angeles, declined to discuss how the three beat the polygraph, but said undercover agents generally compile cover stories that echo their own lives so they can tell them more believably.
"Our guys are highly trained and they were pretty much hand selected to do this mission and for their ability to think fast under pressure and beat the box," Torres said, referring to the polygraph machine.
Though the ATF is able to train its agents to pass a polygraph test, the agency still uses lie detectors as part of its screening of potential new hires. ATF spokesman Mike Hoffman said the polygraph is just one of a slew of tests of a candidate's background.
The Mongols' background checks and lie-detector tests were not only to prevent a repeat of the 1998 infiltration that led to arrests but to assess aspiring members' willingness to commit crimes for the gang, prosecutors said.
Mongols circulated photographs of the undercover agents among the criminal underworld to see if anyone recognized them, Brunwin said.
On one occasion, a Mongol grew suspicious after coming across an old photograph of one agent posing with ATF colleagues.
"They were telling him, this sure looks like you," Brunwin said. "It seemed like he'd been caught."
The agent convinced them it wasn't him.
Torres said not all agents can handle undercover work. Those that do it feed off the thrill of maintaining a facade.
"It is the adrenaline, it's being able to get one over on the bad guy," Torres said.
Torres said the agents in the Mongols investigation never committed a crime during the investigation, he said, and were still subject to random drug tests.
Four women colleagues posed as girlfriends to help in the ruse, providing backup and an excuse that allowed the male agents to avoid having sex with women who hung out with Mongols, Brunwin said.
According to the indictment, the Mongols awarded each other special clothing patches, or "wings," after they engaged in extreme sex acts, like having sex with a woman with a venereal disease.
The 84-count racketeering indictment against the primarily Latino gang lists allegations including murder, attempted murder, racially motivated attacks on black people, torture, and gun and drug offenses. At least 44 defendants have appeared in court, all of them pleading not guilty. It wasn't immediately known if they had been assigned defense attorneys.
Last week, the government barred Mongols members from wearing clothing displaying the group's trademarked name or logo in what was called a first-of-its-kind seizure of a gang's intellectual property.
Among those arrested were the gang's former national president Ruben "Doc" Cavazos and current president Hector "Largo" Gonzalez. The gang is based in Southern California, but federal and local agents arrested members is six states from the West Coast to the Midwest.
Until his arrest, Cavazos lived with his son and other family members at a home on a quiet and well-to-do street with sweeping mountain views in West Covina, about 20 miles east of Los Angeles. Neighbors said he moved in a couple years ago and had landscaped the front of his property with a new retaining wall and several palm trees.
A woman at the house who declined to identify herself said Cavazos worked as a hospital CAT scan technician.
A neighbor who asked not to be named for fear of retaliation said he often would often be woken at 3 or 4 a.m. by the sound of several motorbikes.