PRESS RELEASE
Lenco Industries Supplies BearCat® Armored Vehicles to Australian National Counter Terrorism Committee
---
Lenco Industries, Inc., the global leader in the design and manufacture of armored police vehicles, recently completed delivery of BearCat® armored vehicles to the Australian National Counter Terrorism Committee (NCTC), a national body comprised of representatives from the government of the Commonwealth, States and Territories. The BearCat is part of Lenco's line of light and medium armored response vehicles, used by hundreds of specialized tactical teams in the United States and abroad.
The procurement by NCTC followed the purchase of BearCats by several Australian entities, including New South Wales (NSW), Western Australia, and the Australian Capital Territory (ACT). After the successful deployment of the vehicles and positive feedback on their usefulness, the NCTC decided to purchase and deploy BearCats for each state and territory.
Based on feedback from NCTC, Lenco supplied the BearCats equipped with a new custom feature - rearward facing flip-down seats which maintain an open rear floor plan. This option has since become one of the most widely selected configurations, chosen because it makes it easier to get people safely inside the vehicle, providing a clear path and safe entry / egress points at three sides of the BearCat.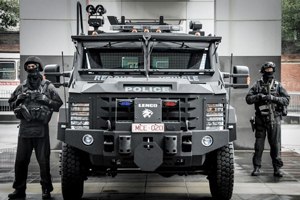 "The Lenco BearCat provides a significant response capability and supports the way police respond to high-risk incidents," said Gary Barkley, Assistant Director of the Attorney-General's Counter-Terrorism Capability Development Branch.
With military grade armor materials, a spacious interior and a powerful 4x4 system, the BearCat can easily accommodate 10 to 12 operators across rugged terrain. The BearCat can also reach speeds up to 90 miles per hour (145 kilometers per hour) for rapid response in critical incidents. Due to its ease of use, low maintenance costs, and innovative designs, the BearCat is becoming an increasingly popular alternative to up-armored military vehicles around the globe.
The NCTC order included G2 and G3 BearCat variants, designed to address on-road and off-road mission profiles. The BearCat Rescue Vehicles also came equipped with protective screens on all windows, thermal image cameras and mounting provisions for long range acoustic devices (LRAD).
The Lenco BearCat APC is built on a commercially available chassis, which allows for warranty-covered repairs with maintenance and parts replacement through OEM dealers and truck centers. This greatly reduces lifecycle maintenance costs and training expenses when compared with specialized military vehicles. The armored trucks for the order were manufactured at Lenco's primary facility in Pittsfield, MA.

About Lenco Industries, Inc.
Lenco Industries designs and manufactures armored tactical vehicles for Law Enforcement, Military and Government agencies located throughout the United States and allied nations around the globe. Lenco vehicles are trusted every day to protect our nation's defenders and first responders in safeguarding our domestic homeland security, as well as downrange in hostile regions such as Iraq and Afghanistan. Lenco's client base includes hundreds of Law Enforcement Special Response teams, including the Los Angeles Police, LA Sheriff SEB, Boston PD and the New York Police Department. Lenco is also a proud supplier to the US State Department, Department of Energy, US Air Force Global Strike Command, FBI, US Marshals and many other high profile federal agencies. Lenco's product line includes the BearCat and larger BEAR armored vehicles, with several variants of each including the MedCat, BombCat, Riot Control, VIP and MRAP blast protected vehicles. For more information, visit www.LencoArmor.com.
Request more info from Lenco Armored Vehicles
Thank You!