PRESS RELEASE
North Port Police put new response vehicle to use prior to photo session
---
NORTH PORT — North Port Police wasted little time putting the department's new $300,000 Lenco BearCat vehicle to good use. The Special Response Team used the vehicle last Tuesday morning to bring a potential standoff situation in the North Port Estates area to a quick close.
In doing so, the vehicle was late for a scheduled publicity photo session with the North Port City Commission.
North Port Deputy Police Chief Chris Morales said the Special Response Team and the BearCat were sent because of reports that a suspect, 35-year-old Walter Ryan Freytes, had access to guns and ammunition and had previously threatened a woman in a domestic violence situation.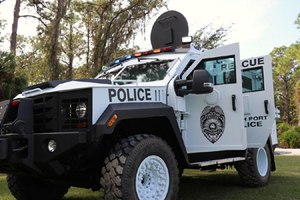 Before officers arrived at Freytes' residence in the 300 block of Pitomba Street, he had texted friends saying he knew police were outside and he refused to come out.
The SRT team responded with the BearCat and set up outside his home.
North Port Police Special Response Team Commander David Cook said that in the past, officers would have to be set up farther away from a home and communicate via a PA system.
"The safety of that Bearcat, we were able to pull right up in front," he said. "It puts the safety of our officers in way better hands than we ever had before.
"I was on the county team for six years, and we used the BearCat all the time."
Freytes quickly came out, once he saw the BearCat, Morales said, adding that Freytes referenced the proportion of the response as a reason for him to end things quickly.
According to the arrest report, Freytes was charged with two counts of aggravated assault with intent to commit a felony, one count of domestic battery by strangulation and one count of hindering or preventing communication with law enforcement.
During an argument with the victim Monday night, Freytes allegedly choked her with his hands and pointed a gun both at his head and hers and said, "I will kill us both," police said.
On Tuesday morning, he confronted her again, as she attempted to get in her car and drive to work. During that argument, he took her phone, preventing her from calling 911.
The incident was reported at 8:31 a.m. Tuesday, and he was arrested at 10:20 a.m.
"Having this BearCat, especially out in this open acreage area, allowed our officers to get up close, engage with the individual and get him out peacefully," Cook said.
Before this, the response team used a van and, for more complex situations, the Sarasota County Sheriff's Office team would be called for aid.
The vehicle can do more than respond to standoffs. It can travel safely in 40 inches of water during flood situations.
"We've had three feet of water flooding," Morales said. "We can do roving patrols at night in the areas of flooding; it can help with evacuations."
The way the vehicle is outfitted for those situations, it can haul stretchers and backboards for extractions.
"When we designed this, we put thought in this as a multi-purpose and a rescue vehicle both for officers and civilians," Morales said.
The BearCat is one of two new tools North Port officers are either using or testing. On Nov. 28, 10 police officers started wearing body cameras as part of a 30-day free field trial with Axon Enterprises.
Both K-9 officers are wearing cameras, as are two officers on day shift and up to three officers on night shift, Morales said.
"The guys like them; it's captured some good video on some scenes and incidents," Morales said. "Officers are allowed to review their body cameras before submitting reports. It's been very helpful and very positive, having that extra tool on them."
Patrol cars already have dashboard cameras, so officers are accustomed to being recorded, Morales said. Now the availability goes beyond a traffic stop to a service call.
If all goes well during the testing and evaluation phase, a report could go before the City Commission as soon as March.
Data storage would likely be handled by Axon or whatever vendor receives a contract with the city. Recurring costs — including two additional staff people, one in information technology and one in records — has been pegged at between $225,000 and $250,000.
Request more info from Lenco Armored Vehicles
Thank You!