2 soft body armor systems for response to active killers
CopGear develops USA-made body armor gear for active-shooter response
---
CopGear, a wholly-owned subsidiary of New York Police Supply, unveiled the Spartan Defense System that includes two options: the Spartan Warrior System and the Spartan Light System. The two inexpensive modular soft body armor systems can fit in the trunk of a police cruiser. 
Both systems are perfect for plainclothes troops who don't normally wear soft body armor on a daily basis but may need a quick, reliable armor defense system when responding to an active-shooter scene. 
The Spartan Warrior System
The Spartan Warrior System is a four-strap harness, quick release vest carrier made of 1000 denier ballistic nylon with a Molle modular, load-carrying design and rear panels with a choice of POLICE, SHERIFF, EMT or PARAMEDIC for identification.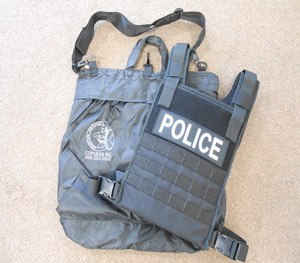 The system includes two 10- by 12-inch military grade ¼-inch thick, single curved Level III Star 555 steel plates rated for 5.56 and/or 7.62 x 39 steel core or FMJ and 7.62 x 51 NATO FMJ (.308 cal) rifle rounds.
Each plate weighs 8 pounds. But, considering it might only be worn for a short period, it is worth its weight in gold.
It also has a heavy duty "man down" drag strap on the back of each vest.   
The Spartan Light System
CopGear also offers the Spartan Light System with the same black four-strap quick release harness but comes with two 3/16-inch thick, 10- x 12-inch compressed Aramid plates weighing less that 1 pound each.
The light system is rated Level III-A and will handle handgun rounds up to and including .357 Mag. 125 grain JHP and .44 Mag. 240 grain HP as well as edged weapons and explosive shrapnel.
Two hook and loop dual over-the-head straps and quick release adjustable buckles on each side allow for quick deployment and will fit over just about any uniform shirt.
In the Field
My former agency in upstate New York purchased one Spartan Warrior system for each unit. All marked cruisers are now equipped with a system in their trunk.
I'm a stickler for any police product that bears the "Made in the USA" label and all Spartan Defense products do.
I've tested both versions and torn them apart looking for flaws. I can't find any. 
Both systems come with a waterproof nylon carry case with 2 front pockets, reinforced shoulder strap and carry handles, and a heavy brass zipper on the main compartment.       
The Spartan Warrior and the Warrior Light systems go for under $425.   
---
Interested parties can reach CopGear, Inc. via New York Police Supply at NYPoliceSupply.com or through their toll-free number at 800.262.2832.   

Request product info from top Police Body Armor companies
Thank You!