PRESS RELEASE
Maintain a Class A uniform appearance with BlueStone's load bearing vests with matching sewn on pouches
---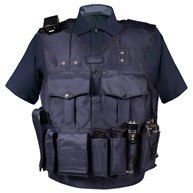 WISCONSIN DELLS, Wis. — Over the last few years, there has been a greater demand than ever for police to have a professional and approachable appearance. This means having a clean, Class A uniform look while carrying the department's required items. While many departments utilize molle vests, finding molle pouches that actually match your vest color can be very difficult. This can result in a department where each officer has dark blue molle vests, with pouches in different shades of black and blue to hold their gear instead of a uniform look. Molle vests also tend to receive a negative view for looking "too militaristic" and "too tactical" in the eyes of the public. The best way to carry all of your necessary items and still maintain a Class A uniform appearance for your entire department is simple: wear a BlueStone Safety custom load bearing vest with matching sewn on pouches.
BlueStone Safety Products' custom load bearing vest carriers are completely made from scratch, starting from the roll of material and finishing with a completely custom-fit LBV. These vests blend in with the officers' uniform shirt and have pouches made out of the exact same material as the vest;  This gives the officer a uniform look while maintaining all the health benefits BlueStone load bearing vests are known for (reducing back pain, sciatic pain, heat exhaustion, and heat rash).
Each BlueStone LBV is fully custom made, and allows officers to choose the pouch locations for each of their items (handcuffs, magazines, flashlights, OC, taser, tourniquet, magazines, etc).  Beyond that, each pouch is custom made to fit the specific model of items you have (custom pouches made to fit MK-3 OC pouches, Streamlight Strion flashlights, etc). These LBVs are custom made to the Chief or Sheriff's exact specifications and needs, providing officers with superior comfort while maintaining a Class A uniform look. BlueStone LBVs are backed by a 2 year warranty for stitching and craftsmanship, and are built to last much longer than the competition.
For more information or to order a BlueStone Safety custom load bearing vest carrier, please visit: https://bluestonesafety.com/custom-vest-carrier
About BlueStone Safety Products
BlueStone Safety Products is a state-of-the-art defense company that manufactures custom load bearing vests / outer carriers for LE. Mayo Health Clinic and the University of Wisconsin-Eau Claire completed a research study with the Eau Claire Police Department, and concluded that wearing BlueStone load bearing vests effectively reduced officers' lower back, sciatic, and hip pain; Eau Claire then chose BlueStone to be their direct manufacturer. You can find this case study on our website.
BlueStone takes great pride working with some of the finest Sheriffs and Chiefs across our nation. No matter your department size, we'll assist you. We specialize in keeping officers in good health, good posture, and pain free while on the job.
Our vests give officers a uniform look, made to the Chief's or Sheriff's exact specifications. If you can dream it we can make it; all of our vests are proudly made in the USA (not overseas), and made custom to each officer's measurements. BlueStone vests are a long-term investment to protect your officers from poor physical health, keeping our officers healthy and able to support their communities.
We also offer our brand of multiple armor threat levels.

Request more info from BlueStone Safety Products
Thank You!