Former cop debuts sleek, lightweight body cam with LEDs
The body camera is activated by what the company calls a "mistake-free" slide panel that uncovers the camera's lens and turns it on
---
A new body camera designed by a 15-year veteran police officer made its debut at SHOT Show 2015.
The CodeCam body camera records audio and 720P high definition video at 30 frames per second with a 60-degree field-of-view. Designed to fit inside a uniform pocket, pen loop, or MOLLE webbing, the camera features a two-hour record time and stores its data via a removable 8GB SIM card. The device charges via micro USB.
The body camera is activated by what the company calls a "mistake-free" slide panel that uncovers the camera's lens and turns it on.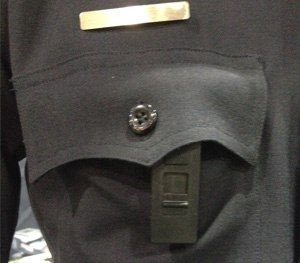 Director of Development and former officer, Brian Quittner, stressed the utility of the camera's 1.5 oz. weight (2 oz. with detachable clip) while an officer is out in the field in comparison to bulkier models.
"As a former police officer, what I wanted to see in a body camera was a lower profile and a lighter weight — the bulkier ones are banging on your chest and can fly off when you're on the job. The technology for a smaller camera that's available now allowed us to solve these issues with the Code Cam," Quittner said.
"The fact that the camera is more concealed allows the officer to look more professional — you don't want tons of gear hanging off your uniform."
The CodeCam will have an MSRP of $200.
LEDs
Although video recording is the CodeCam's primary focus, the device also functions as a hands-free light source, with the same technology featured in Quittner's Quiqlite uniform lights. Quittner was inspired to develop the light after his flashlight, tucked under his arm, fell to the ground as he was writing a citation during a traffic stop.
A 10 lumen white LED is coupled with a 10 lumen red LED. The lights can be used independently of each other or as a strobe. The light is positioned at a 12-degree angle to illuminate the area that an officer's hand would usually be when writing a report or reading.
As a tactical advantage, the LEDs are specifically designed to emit a level of light that preserves an officer's night vision.
A removable QuiqFlare attachment can diffuse the light so the LEDs can be seen from up to a mile away if an officer needs to be located in the dark. It also acts as a marker for roadside hazards or emergencies.
A 10-minute auto timer built into the device saves battery life by shutting the LEDs off. In the case of the strobe light function, which is intended for officer safety, the auto timer is not activated and the strobe will run until the two-hour battery runs out.
Magnetic Clip
The camera also includes a detachable clip for increased options in positioning. It rotates 360 degrees and attaches to materials up to an inch thick. The magnet can attach to any metallic surface to allow an officer to record from a desired vantage point — such as from the outside of their patrol car — or add an additional light source to a specific area.
The CodeCam will be available for police officers in June. For more information, visit codecam.com.

Request product info from top Police Body Cameras companies
Thank You!