Guide to grants for body-worn cameras
Download this free guide and learn expert tips on finding federal and state BWC grants
---
The following is paid content sponsored by Motorola Solutions
By Police1 BrandFocus Staff
Law enforcement agencies, with the support of municipal and federal governments, continue to include body-worn camera programs in their strategic plans. As part of the initiative, federal and state agencies started grant programs to help qualifying law enforcement agencies purchase the equipment needed to deploy robust, effective BWC programs.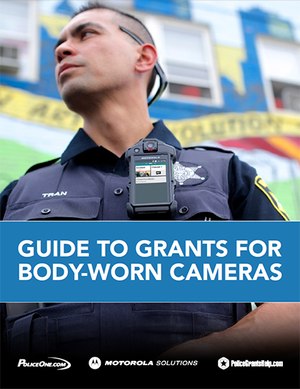 Grant opportunities abound, and getting your department's applications ready to apply for key federal grants is crucial. So our staff at PoliceGrantsHelp developed this guide to body-worn camera grants to help you get the right products into officers' hands.
In this free guide, you will learn:
How to meet the federal FY 2017 Body-Worn Camera Policy and Implementation Program deadline
How to prep for a successful BWC grant proposal
How state-specific grants are funding body-worn camera programs
And much more!