RISE Award nominee: New chief turns around troubled department, builds trust
Chief Eric Blanchard immediately demonstrated a commitment to transparency and accountability that earned the trust of his officers and his communty
---

Editor's Note: The TASER RISE Awards have officially commenced. In the second-ever edition of the RISE Award Program, TASER and Police1 again honored officers, agencies, and community partners who have risen above the rest. Chief Eric Blanchard's fearless leadership when facing mistrust and scandal has earned him a Police Leadership nomination. Stay tuned to find out who our winners are!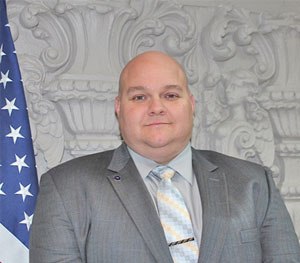 When Eric Blanchard became chief of the Aransas Pass (Texas) Police Department after a 10-year stint as Lieutenant at a neighboring department, he immediately had his work cut out for him.
There were complaints of corruption, cover-ups, bribes, cases that weren't managed properly, and an increasing number of allegations against officers when Blanchard stepped into office. The problem, according to Blanchard, was that Aransas Pass had isolated itself from the public. When the department was confronted by the media, its leaders refused to cooperate.
"What I did when I came in was immediately built a website, got on social media, and started leveraging that to the fullest," he said. "I counted on accountability."
Creating Accountability
Chief Blanchard teamed up with TASER to outfit his entire department — including himself and the assistant chief — with Axon-flex body-worn cameras, to help usher in an era of transparency with the public around policing incidents as well as combat misconceptions.
"Nowadays, when someone posts a video about law enforcement, it's a one-sided thing; it doesn't tell you everything," Blanchard said. "So we started posting our videos to YouTube that showed the entire event — beginning to end."
The introduction of video confirmed rumors about some officers' behavior, and Blanchard dealt with the problem decisively. Blanchard said he dismissed several of them from the department.
"Some (officers) were corrupt or deceptive, some were just people who needed to move along, some were the product of shoddy administration. I don't have a problem getting rid of those people," he said.
To further demonstrate a commitment to transparency, Blanchard began writing The Chief's Message — an email that went out to the public addressing issues and often-difficult topics.
Recently, for example, he noticed that dispatch communications issues were a major cause of complaints the department was receiving. In his message, he explained the duties of dispatchers so that the community would better understand their roles.
He has also made efforts to improve media relations by helping make their jobs easier. A daily blotter is automatically published to the department website that details every police interaction that can be released to the public for the last 24 hours.
"To keep the media happy, we release to them an arrest blotter and an event blotter that gives them more information of the week's events with a short narrative, and a list of all the people who have been arrested," Blanchard said.
Improving Staff Morale
Understandably, Blanchard's reformist approach made some officers wary. He combated that perception by focusing on the day-to-day needs of his officers and seeking ways to make their jobs easier.
"One of my first days on, an officer showed me his radio mic on his lapel and said they needed new equipment — he showed me how he had to shove the wire back into the mic for the audio to work. Come to find out, there were brand new radios sitting in boxes waiting to get distributed," Blanchard said. "I don't know why — but from my understanding they held onto them about six months."
After that, the chief asked each member of his staff to compile a short list of three things they wanted fixed. Blanchard was shocked at how many of them were quick or minimal fixes.
"Some were things like, 'I'd like to type my reports.' They were handwriting their reports and two secretaries were typing them up later," he said.
To help fulfill his staff's request, the chief acquired a $325K technology grant for the department. This enabled the department to install computers in all squad cars, and replace some vehicles with newer models.
Blanchard also made sure officers had a say in what hours they worked. When he began as chief, he met an officer that told him he hadn't had a single weekend day off in two years because he wasn't favored by supervisors.
"Decisions are collective and information comes from the bottom," Blanchard said, "There's this idea that as you get to the top, your workload gets lighter. I don't believe that. If you're not working harder than the position you came from, you're not doing your job."
Making Time for Training
One of the most significant changes Chief Blanchard has made to the department is dramatically boosting the amount of training time that's available to officers.
The year before he became chief, the 36-person department received 400 total hours of training. That number has since risen to about 3,800 hours, and includes an in-house training program that's become so large, federal authorities and nearly 200 officers around the state are in attendance.
"I tell my staff, 'I want to make you an expert; you tell me what you want to be an expert in,' and that's what we've done," Blanchard said. "A happy employee is going to go out and give a well-received product. The community reaps the benefits. Let them [the officers] have a hand in the decision-making process; let them expand on their talent."
The department's budget has increased by nearly $200K since the new chief came into the position, much of that put toward boosting officer salaries. Aransas Pass is now the second-highest paid agency in the area, according to Blanchard.
"Eric puts in countless hours into his work to improve the working condition of his staff and community through the use of technology and leveraging resources around him to ensure we are efficient and not duplicating services," said Aransas Pass City Manager Sylvia Carillo, who submitted Blanchard's nomination for the RISE Awards. "He's been called to make some very tough decisions to people who were close friends in the industry, and did it with tact, professionalism, and empathy that is embodied in a true leader."
Chief Blanchard's tireless efforts to improve every possible aspect of the Aransas Pass Police Department and the community it serves make him an ideal candidate for TASER and PoliceOne's RISE Police Leadership Award.