Okla. police dept. to equip officers with PatrolEyes MAX body cameras
---
STRATFORD, Okla. — The ​Stratford Police Department ​has made the decision to equip officers with PatrolEyes ​MAX​ body cameras. The Oklahoma department had been researching potential body camera systems, when it found the PatrolEyes solution.
Chief Adam McMillen stated ​that two features in particular influenced the choice of PatrolEyes ​MAX​cameras. The first of those being the camera's pre-recording capability. ​MAX ​has the ability to begin recording 30 seconds prior to the record button actually being pressed. This specific feature provides insurance that every critical detail will be captured by the camera. ​Every moment is also in frame and in focus, with the 140-degree wide angle lens.​​
In addition, multiple resolution and frame rate settings offer customizable video and photo capture quality up to 2K​. ​Recording transitions well into low light and darkness with ​MAX​'s auto infrared feature. Night vision range is 30 feet, with the ability to adjust IR sensitivity settings. ​A built-in LCD allows the user to review videos, photos or audio recordings while in the field.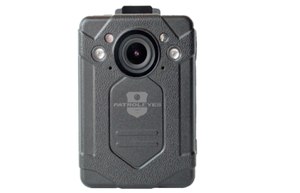 Stratford Police Department also remarked that ​MAX's ​long-lasting battery life is another reason for choosing the body camera. ​MAX​ can last long beyond an average shift. The built-in lithium battery has a recording life up to 14 hours and 18 hours of standby. Additional features of ​MAX include EIS (Advanced Image Stabilization). This feature assists the device in maintaining steady shots, especially when users are in movement such as foot pursuit. Built-in GPS saves video location data while ​MAX​ films.
This data is integrated with maps through included software and provides even more priceless facts to evidence collection. Video overlay text includes date, time and ID stamps. These secure watermarks are locked and tamperproof to camera operators. An included drop-in charging station can also transfer data from the camera to desired location. Transferred camera files are well-organized and include their own unique device ID and log files, making it quick and easy to find evidence searched for. The body of MAX​ is built for optimal performance while being waterproof, lightweight and drop proof up to 10 feet.
Chief McMillen said that ​the department's cameras were funded by a grant from the Oklahoma Municipal Assurance Group. The grant funds were solely used for the purchase of body cameras.
PatrolEyes cameras can be an affordable option for all departments, including those that may not be eligible for grants or assistance. ​
"We do everything we can to provide affordable options suited for departments large or small," PatrolEyes​CEO Mike Gramza stated. We offer customizable, cost-effective features on all our devices, and multiple camera management solutions, which can be done locally or in the cloud."
About PatrolEyes
PatrolEyes body cameras by StuntCams are the most innovative cameras designed specifically for police and law enforcement. StuntCams has been an industry leader in the specialty cameras market for years and now has developed the most innovative line of body cameras to date. By paying close attention to each detail the PatrolEyes models by StuntCams are designed to be the most user friendly body cameras with the most advanced features, highest quality components, at the most competitive prices. 

PatrolEyes is determined to earn your trust and your business and offers a full one year manufacturer warranty on all cameras and offers fast, friendly, knowledgeable support, based right here in the U.S.A.

Request more info from PatrolEyes
Thank You!