PRESS RELEASE
Safe Fleet Law Enforcement's BWX-100™ Body-Worn Camera With In-Car Integration
---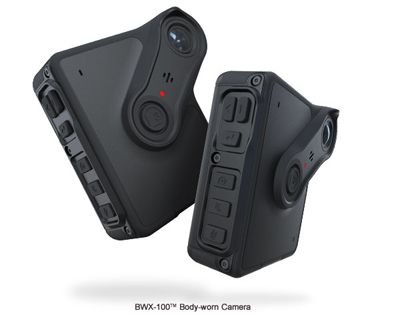 HOUSTON— Safe Fleet Law Enforcement Mobile-Vision provides an enhanced Body-Worn Camera, the BWX-100™. This advanced body camera is compatible with Safe Fleet Mobile-Vision's In-Car Video system, each triggering the other, via an activation device, when recording begins. Additionally, the BWX-100, which offers a 140-degree diagonal field of view, can be used with the companion BWX-100 Mobile™ app.

According to Mark Griffin, Vice President, Safe Fleet Law Enforcement Business Unit, "Safe Fleet understands your need for an end-to-end Digital Evidence Solution. Starting with capturing high-quality video in the field with reliable products. Such as the BWX-100, with 720p/1080p and 12-hour full-shift recording capabilities, that enables bi-directional remote-trigger recording with the FlashbackHDTM IVC."

In the field, the enhanced BWX-100 also eases officer/device interaction with an alphanumeric LCD screen, tactile buttons and the ability to tag videos. In addition, during post-field editing on agency premise, as with previous iterations, the platform provides a fully integrated Evidence Management System with the ability to add notes, photos and other digital evidence into one case file. 

The BWX-100 launch is the first in a series of new developments designed to advance evidence collection, value and usability for agencies. 

Mark Griffin adds, "From Body-Worn Cameras and In-Car Video systems to an advanced Digital Evidence Management ecosystem—backed by years of experience in law enforcement—Safe Fleet's COBAN and Mobile-Vision's video capture and evidence management solutions help law enforcement agencies improve both public trust and officer safety. We have the tools to help you succeed with your daily mission."

About Safe Fleet Mobile-Vision

For 30 years, Mobile-Vision has delivered rugged and reliable equipment and systems that allow agencies to capture, manage and communicate critical information in a safe, secure and effective manner. For more information, visit https://www.safefleet.net/brands/mobile-vision/.  

About Safe Fleet Law Enforcement

Located in Houston, TX, Safe Fleet COBAN Technologies is a leading provider of state-of-the-art in-car video systems, body cameras, and evidence management solutions for law enforcement and public safety communities. Since 2002, COBAN has worked with many of the largest law enforcement agencies in the country to deliver efficient, configurable, and end-to-end scalable solutions.

Thousands of our systems have been deployed by hundreds of police departments across the United States, ranging from small departments with a few vehicles, to large, multi-precinct cities such as City of Los Angeles and City of Chicago.

Request more info from Mobile-Vision, A Safe Fleet Brand
Thank You!