Taylorsville Police choose Patroleyes SC-DV5 body cameras
---
TAYLORSVILLE, N.C. — The Taylorsville P.D. has made the decision to equip officers with SC-DV5 body cameras. Many factors influenced the choice to go with PatrolEyes, among them was the ability to implement an affordable body camera plan. With a smaller department, the Taylorsville Police Department faced cost constraints, as with most small agencies. Chief Dennis James stated that the department had been using Taser brand cameras in the past, but due to the large costs associated they have since switched to PatrolEyes cameras without sacrificing key features or quality. Chief James mentioned that in his opinion the PatrolEyes SC-DV5 has provided better image quality and an overall superior "ease of use".
PatrolEyes CEO Mike Gramza states "We understand that most departments, especially smaller ones will face budget constraints when implementing a body camera program." A Feb. 2015 article published by the Associated Press touches on the topic that most departments are forced to sign long term contracts with competing body camera companies or simply go without the cameras. "Many of our competitors have lured departments into long term body camera agreements for overpriced equipment and cloud storage, initially costing thousands of dollars, while the overall contract often ends up costing in the millions."
Gramza goes on to state that "PatrolEyes has always made it a priority to provide the best cameras at the lowest possible cost and we give departments the option to use a low cost local storage option or a cloud based option. We simply do not want to see departments forced with the decision to go without cameras or eventually abandon a body camera program altogether due to high cost cloud based storage. We do everything we can to provide options to departments large or small with customizable cost effective features with our devices, storage and multiple camera management options."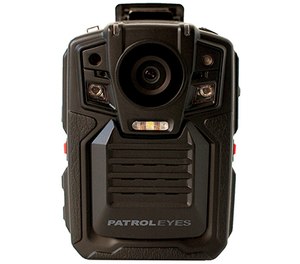 The PatrolEyes SC-DV5 is a body worn, high-definition video recorder for law enforcement with the ability to capture true crystal clear 1080p HD footage. Equipped with advanced optics, the SC-DV5 has a 140° wide angle lens, sure to cover a vast focal area for every officer interaction. Recording can start with the fast and simple press of one button, even when the camera is turned off. Enable the SC-DV5's motion detection feature for automatic recording any time the device is triggered by an action. An auto infrared feature allows for worry free recording in all environments. In the event that additional evidence capture is needed, a snapshot function allows the SC-DV5 to take still frame images while recording. Built in GPS provides specific location data for each video captured when viewing footage in our included software. The SC-DV5 can record for up to 6 hours and comes with a removable battery that can be swapped out to provide truly endless recording time. Variable model versions include storage space of 16, 32 and 64GB. The camera is protected with a lightweight yet durable shell and is waterproof to a depth of 3ft. A host of accessories come along with the SC-DV5 including USB cable, wall and vehicle chargers, drop-in charging station, lithium battery and metal body clip.
About PatrolEyes
PatrolEyes body cameras by StuntCams are the most innovative cameras designed specifically for police and law enforcement. StuntCams has been an industry leader in the specialty cameras market for years and now has developed the most innovative line of body cameras to date. By paying close attention to each detail the PatrolEyes models by StuntCams are designed to be the most user friendly body cameras with the most advanced features, highest quality components, at the most competitive prices.

Request more info from PatrolEyes
Thank You!