How to interact with citizens while maintaining your distance and privacy
This phone app lets you reduce face-to-face citizen encounters – and potential COVID-19 exposure – by conducting non-emergency police business by phone
---
Sponsored by Callyo
By Laura Neitzel for Police1 Brand Focus
Even in a global emergency like COVID-19, police business must go on. Although the CDC encourages social distancing to slow the spread of the disease, traditionally law enforcement officers have conducted much non-emergency police work like investigations and accident reports through in-person encounters. This needs to change.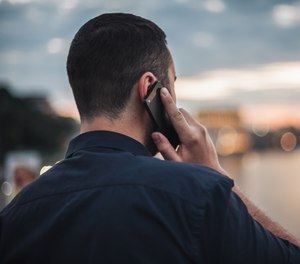 In response to COVID-19, many agencies are using 10-21 Police Phone to reduce face-to-face encounters with citizens by solving routine police work by phone. For example, a non-emergency call that may traditionally result in dispatching an officer can be addressed over a simple phone call. 
Even in the best of times, most officers are understandably reluctant to place a call from their personal phones. In these unprecedented times, however, using your phone instead of physically responding to a non-urgent call is the wise and necessary choice, when possible. 10-21 Police Phone makes this feasible.
The free version of 10-21 Police Phone now offers enhanced features like caller ID that identifies you as law enforcement without revealing your personal number. And with 10-21 Police Phone Premium, agencies those calls get answered faster and preserve the call records.
If you're not one of the 1 in every 5 officers who is already using the free 10-21 Police Phone app (available for both iOS and Android), here's the gist:
10-21 Police Phone lets you use your personal cellphone to make calls to citizens without revealing your personal number. Calls are made from local numbers in the same area code as the recipient. If the citizen calls back, they will be prompted to press 1 to request a call back (which reaches you via a push notification on your phone) or to press 0 to reach a dispatcher (which connects to a non-emergency number that you provide). When you are ready to initiate a call back to the citizen, you simply tap the notification to place the call.
Calls are made over a VoIP data connection, so they do not use your cellular minutes. While data usage fees from your provider may apply, the data used is minimal.
Survey of users reveals top benefits to LEOs
Callyo recently conducted an anonymous survey of over 400 10-21 Police Phone users. Users report using the app to place and return calls from victims and witnesses, as well as crime tipsters and insurance companies, among others.
A top benefit cited by survey respondents using the 10-21 Police Phone app is an increase in the rate of their calls being answered.
Another top benefit of using 10-21 Police Phone, according to survey respondents, is the ability to protect the privacy of their personal number.
A third most-cited benefit is the ability to prevent calls from interfering with their off-duty time. This is made possible by a "quiet notification" that lets you know there has been a request for a callback but that won't wake you or otherwise disturb your off-duty time. You can return the call when you're back on duty.
A final often-noted benefit is the app's call history log, which makes it easy to search for recently called numbers and separates the user's personal call history from the law enforcement-related calls.
What users say about 10-21 Police Phone
When asked how they are using the app most, one user said, "Calling citizens back so I can call myself using 10-21 and not allowing them to have my cellphone. This avoids me calling dispatch, dispatch calling them and then patching them to me. Awesome app."
Another uses it when "People call in with questions about their crash and the report, and this app gives me the opportunity to talk to them after I leave the scene without having to worry about my personal number being out in the open."
A third respondent uses it "When I'm out in the street and need to make a police-related call to someone who needs police services or when calling someone who may be a suspect in a crime. I use 10-21 so they will not have my personal cell number. I believe this app is essential to me doing my job."
Another survey respondent uses 10-21 Police Phone most for contacting reporting parties, witnesses and other subjects for information, whether it's more information prior to arrival or getting another involved person's side of a story who is no longer on the scene. This person added, "10-21 is essential in LEO daily activities. It allows people we call to call us directly back without LEOs having to provide personal information."
Among many other responses, one user said, "I just love the fact this is for police officers only and that you provide the service you do. I recommend this app to all my police friends."
New features and enhancements
In addition to finding out how officers are using 10-21 Police Phone and what features and benefits they like best, Callyo's user survey asked what features they would like to see in future versions of the app. Users responded with suggestions that have been developed and included in enhancements to the app that are now available for a small monthly fee.
Outbound Caller ID. Outbound Caller ID prevents citizens from assuming your call is spam. Your ID will show up on the recipient's phone as "Law Enforcement," making it much more likely that the person will answer. At the enterprise subscription level, agencies can brand Caller ID with their department name and logo.
Citizen Caller ID. Similarly, the Caller ID feature performs a carrier lookup of the name of the citizen so with a quick glance at the screen you know exactly who is returning your call.
Follow Up Message. If your call is declined or you need to leave a voicemail message, the Follow Up feature on the app will send a text that identifies you as law enforcement and allow you to personalize a message explaining why you are reaching out.
Call Records Retention. The premium subscription level gives access to your full call history from your date of upgrade so you can look back through your entire call log to verify contact with citizens or access long-forgotten numbers.
10-21 Police Phone is used by over 150,000 officers and over 10,000 agencies to protect their privacy while improving communications with citizens. As one user noted, the app helps in community policing by giving them a direct line of contact with those they serve, bridging the gap between the community and law enforcement. In this time of COVID-19, it can also save lives.
While protecting an officer's privacy is a primary benefit, an important side benefit is that by increasing two-way communication between officers and the public, law enforcement inspires greater trust among citizens and strengthens their bond with the community – a reassurance in these certain times. A local number with Caller ID that identifies a call back from law enforcement avoids the citizen's mistrust of an unknown number and adds a personal touch by giving them a way to communicate with the officer without frustration, bureaucracy or delay. 
The basic version of 10-21 Police Phone remains free for all law enforcement officers. The added features are available as an in-app subscription that can be downloaded from the App Store and Google Play.

Request information from Callyo
Thank You!