Law enforcement-inspired iPhone and iPad apps
Crucial law enforcement applications will also work on Apple's new tablet
---
While buzz surrounding its name has died down, discussions of the iPad's application capabilities certainly hasn't. According to Apple, the iPad will run almost all 140,000 apps created for the iPhone. The best part? You can easily transfer already-purchased iPhone apps to the iPad via Mac or PC. Meanwhile, designers are hard at work creating the next wave of iPad-specific apps taking advantage of its much larger 9.7-inch screen.
People use iPhone Apps in a number of ways—to pass the time, to entertain friends, even to save lives. After Haiti's massive earthquake, a man trapped in rubble turned to an iPhone app for medical guidance that proved instrumental in his survival.
In the same vein, applications created for and about law enforcement can potentially make or break a situation. During the last several months, Apple's iTunes Store has seen the addition of a number of applications to make life easier, and in some cases perhaps more difficult, for police officers.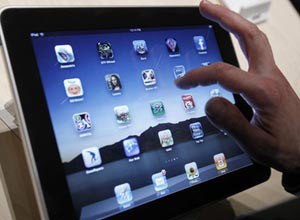 For Assistance
When everyday poses a new challenge, there's no shame in reaching out for a helping hand. CopLogger ($.99) offers just that. It gives you a pocket-sized version of mobile computing terminals (MCT) found in police vehicles. The mini-MCT replicates many of the features including tracking calls from start to finish. Use it to track an entire day's activity and archive or e-mail it.
For a quick refresher session, Police Codes ($.99) will list those digits you spent all that time learning in the academy. And if one happens to slip your mind, the guide gives you medical/fire codes, police 10 codes, police 11 codes and scanner color codes at your fingertips.
When it comes to reading citizens their rights, the Miranda Warning ($.99) app not only replaces that paper copy, it lights up the words making it easy to read after dark. Need to brush up on your foreign language skills? One push of a button and the app produces an audio version of those rights in Spanish to help with translations.
Need further illumination on warnings and instructions? Look no further than DUI Warning and Test Instructions ($.99). This no-flashlight-required application makes reading implied-consent cards at night a cinch. In addition to the warning card, it also includes a .08 blood-alcohol percentage chart as well as field test instructions.
For Information
Recently surpassing more than 100,000 downloads, CrimeReports maps out crime data and sex offender lists from 700 law enforcement agencies in real-time. While the free application might not even cover your district, it may soon enough. Its current service area covers 20 percent of the U.S. population, and fifty new agencies are signing on each month to share crime reports. Those reports pop up on a map allowing visualization of crimes street by street. Last year the service mapped more than 10 million crimes.
Another app bridging the gap between police reports and citizens is iSpotACrime. This free crime-fighting tool empowers citizens to become on-the-scene detectives—gathering information as they witness a crime. Chock full of things people often forget in high-stress situations, it lets witnesses take a picture, type in a description and location as well as add voice commentary to a report. To file the report, simply click a button and e-mails it to the nearest a police station. If there's a true emergency, users can hit a panic button that automatically dials 911.
Want to lose that pen and notepad during an investigation, too? With Field Contact ($2.99), photograph, investigate and e-mail all of your law enforcement contacts with ease. Search for information quickly by organizing people by aliases, race, birthday, age, state ID, social security number and physical descriptions. And for those worried about someone intercepting this information, they can program all the data to erase after a certain number of failed logins.
Search intelligence from both the FBI and U.S. Marshals with the FBI Most Wanted ($1.99) app. See someone who just looks suspicious? Hunt them down on updated lists of the top ten fugitives and most-wanted terrorists lists. Want to alert the proper authorities? There's also direct access to contact information for local FBI and U.S. Embassies. The U.S. Marshals Service ($.99) gives information about recent arrests, most wanted reports, upcoming asset forfeiture sales and more. Although this app doesn't have a direct tie to the U.S. Marshal Service or any other government entity, its reports come directly from the service news feed.
For Safety
If someone needs immediate medical assistance, it's probably not the time to pull out an iPhone. Despite that fact, Pocket First Aid & CPR Guide ($3.99) serves as a great review for those with CPR training. Created by the American Heart Association, it features hundreds of pages with illustrations and covers CPR, choking, bites, bruises, burns, seizures, diabetic emergencies and more. Moreover, there are training videos and a place where you can save your own and others medical emergency information. Or there's CPR & Choking, a free app with short video demonstrations on how to perform CPR properly.
Dubbed the "Swiss Army Knife of flashlights," myLite Flashlight provides light when your real flashlight isn't within reach. Obviously it won't be as bright, but this free app is also less cumbersome. Adjust its color and brightness and, if need be, send out SOS messages. If you need more than a flashlight to light the way, Police: USA ($.99) helps locate the nearest police station. It uses the iPhone's GPS to find 10 of the nearest stations as well as directions on how to get there.
Access law enforcement, fire and EMS dispatch frequencies with Police Scanner ($2.99). While on-call volunteer firefighters and emergency responders can listen in, the downside is that they can't broadcast or respond. Frequencies include both national and international streams. Want to listen to a scanner while using other apps? Pocket Tunes Police/Emergency Scanner ($1.99) lets users do just that as well as record any scanner station to playback later. That way you don't miss a beat.

Request product info from top Police Communications companies
Thank You!