Motorola demonstrates future tech at APCO 2013
New technology shown at an invitation-only display during APCO 2013 indicates that Motorola is not content to sit around and wait for the future to get here
---
Ten years ago we would have thought it impossible to have a "black box" in a patrol car allowing a dispatcher to know in real time where their officer's squads are. Now many centers have in-vehicle locators integrated into the CAD system, and their officers are shown as blips on their map screen. 
So it's really not difficult for public safety telecommunications professionals to imagine having the technology enabling every dispatcher to know exactly where every officer is located as well as where all the calls are. Or to imagine knowing precisely when an officer gets out of their vehicle, starts running, deploys OC spray, and removes his or her weapon. Or how about when a firefighter hits his/her PASS alarm or is low on air?
New Motorola technology shown at an invitation-only display during APCO 2013 indicates that these ideas are not far-fetched at all.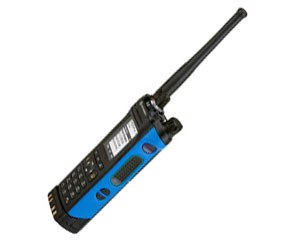 Motorola in Motion
During the demonstration, an officer equipped with a Motorola P25 APX 7000 Portable Radio stood in the back of the room. A Motorola MCC 7500 IP Dispatch Console sat in the front of the room. 
After pointing out a blip on the screen that showed where the officer was, the officer began running. The blip changed colors to indicate he was in foot pursuit. 
When he made it to the front of the room, he pulled his OC and deployed. Again, the blip shifted, indicating a change in the situation. 
Finally, he pulled his gun, and the blip responded. 
The software can also be programmed to turn on the camera in the lapel microphone when a certain event occurs (such as an officer's weapon being unholstered). 
Pretty impressive. This technology would allow a dispatcher to see that a situation has escalated without needing the officer to try to communicate that while running or while holding a suspect at gunpoint. 
Firefighter Safety Line
Sensors in Motorola's technology send important situational awareness information back to dispatch and also to a command center. Their innovation doesn't stop in the law enforcement realm, as their equivalent products for fire personnel are just as much of a breakthrough. 
At their APCO 2013 booth, Motorola displayed a prototype for a product they designed in partnership with Scott Safety. The display model showed a firefighter carrying a Motorola APX 7000XE Portable Radio created for the unique challenges a fully-donned firefighter experiences. The APX 7000XE is specifically designed for extreme environments and includes exaggerated controls for ease of use with structural gloves, a shielded Push-to-Talk button, and a textured housing so it doesn't slip out of your hand when wet. 
Even the cord attaching the radio to the microphone is rated up to 500 degrees. Like the police officer's sensors, dispatch is linked to the firefighter and any trigger events that might occur. 
Through Bluetooth connectivity to the radio and the radio's connection to the dispatch console, the system can even document the amount of air remaining in a firefighter's SCBA. As a firefighter, I found it comforting that the dispatch screen lit up when the PASS alarm was pushed or the air got low. 
If the products Motorola displayed on the APCO 2013 floor are any indication of their stance to not sit around and wait for the future, I'm really looking forward to their product solutions to come. 

Request product info from top Police Communications companies
Thank You!