Be prepared: What should you keep in your bailout bag?
Keep critical supplies, from gloves and tourniquets to extra ammo and backup batteries, in a purpose-built carryall like Propper's new Bail Out Bag
---
Sponsored by Propper
By Sean Curtis for Police1 BrandFocus
Officers who roll up on an active scene need a bag of supplies they can grab quickly as they exit their vehicle. Often referred to as a bailout bag, the name likely came from wartime pilots who had to "hit the silk" over enemy territory and needed some basic survival gear in an easy-access pouch when they hit the ground.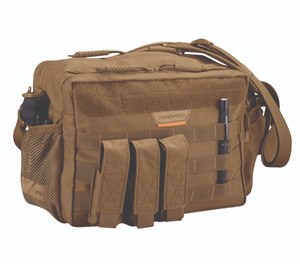 Having some critical gear stowed in a bag that you can quickly grab and go has a long-standing role in law enforcement. But the question remains: What should you keep in your bailout bag?
What to stash in your bailout bag
The idea of a bailout bag is more about being prepared to respond quickly to a major threat like an active killer event or officer ambush than it is about those occasional tools you may need to help you solve some infrequent issue on the job.
With that in mind, you will want to load out with plenty of ammunition in magazines for your primary weapon (long gun) and at least some for your sidearm. In addition, consider more extensive medical supplies, such as multiple tourniquets, combat gauze and airway support items.
Even if you never engage the threat in your response, you will be one of the first responders and can potentially help people with life-threatening injuries within crucial minutes.
The advent of Tactical Combat Casualty Care (TCCC) has taught us that we should have medical gear in our bags. This is in addition to the tourniquets and dressings you keep on your person.
You may also want to keep an extra battery for your radio, as well as things like hobbles, flex cuffs and spit masks. In more rural jurisdictions, it's wise to keep extra food and water – even toilet paper – in your bag.
The Propper Bail Out Bag
Propper makes all kinds of gear designed for tactical use, including the new Bail Out Bag. Made of 100% 600 Denier polyester, this bag is tough and has been NTOA-member tested and approved. As far as bags go, it's on the smaller side at 11 inches long by 5 inches wide by 9 inches deep, meaning it will hold just what you need without getting too heavy or cumbersome. The Bail Out Bag comes in black or coyote.
One of the best things about this bag is its simplicity. Feature creep and hidden pockets can cause you to have to search for gear when you really don't have time to spare, but everything in this bag is easily accessible.
The Propper Bail Out Bag has one main compartment, two side zippered pockets and a mesh pocket. In addition, there are three external mag pouches capable of fitting two 30-round M4 or AR magazines each. These have hook-and-loop flap covers that also have large tabs so you can rip them open easily.
Each external compartment has drain holes, so if it's left out in the rain or immersed, the bag's contents will dry. Details like 2-inch zipper pulls were added for easy use with the knowledge that the bag's users might be operating under stress. The bag also comes with an adjustable, padded nylon shoulder strap that will help distribute the weight comfortably when the bag is fully loaded.
The large side opposite the rifle mag pouches is covered in MOLLE so you can customize it to your heart's content. You can leave it slick or deck it out with mag holders for a pistol (also available from Propper). Both large sides have loop sections sewn in so you can attach name badges, morale patches or other identifiers so your bag isn't mixed up in briefing or so you can quickly identify its contents.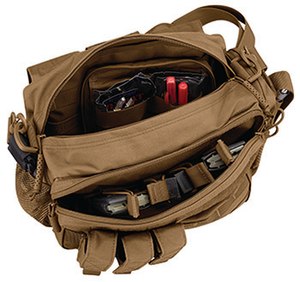 Both the main compartment and the large side pocket have loop sections sewed into the lining so you can also mount other items you want to remain in place, such as a backup gun and holster. The main compartment also has MOLLE for adding your favorite attachments.
Stay organized for bump and run
Whether for the purposes of an EDC or bailout, Propper offers a customizable solution in this bag so you can be as organized as you need to be, whether toting useful items or to suit your loadout with MOLLE and hook-and-loop attachments. Its mission-oriented details allow for ease of use under stress, and its small and maneuverable size provides mobility when responding to a crisis is the order of the day.
About the author
Sean Curtis is a law enforcement professional with nearly two decades of experience, serving with SWAT, diving and swift water rescue teams in Colorado. He has also served in wildland fire, search and rescue, EMS and emergency management.