Spotlight: Concealed Carrie combines style and security into one bag
Products are a response to the rapidly emerging women's firearms movement
---
Company Name: Concealed Carrie
Headquarters: Roswell, Georgia
Signature Product: Leather Satchel
Website: www.concealedcarrie.com
Leslie Deets, Founder and CEO of Concealed Carrie, wanted a better way for women – whether off-duty officers or civilians – to carry handguns while maintaining a sense of style.
Where did your company name originate from?
"Firearms", "Fashion" and "Fabulous" - three words that sum up our response to the rapidly emerging women's firearms movement. Concealed Carrie's intent is to create a brand that is both sophisticated and sexy while easily explaining our product's purpose. Call it Carrie Bradshaw's solution to the need for fashionable carry options.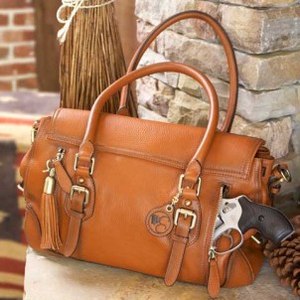 What was the inspiration behind starting your company?
After attending a ladies' defensive handgun class at our shooting range, Sharp Shooters USA, I recognized the need for a better solution to the current market's available yet less desirable lines of concealed carry options.  I realized that there must be a better way to carry your handgun while maintaining a sense of style, and discovered that concealed carry fashion forward options remained an untapped market. It was time for a change.  Concealed Carrie was born.
Why do you believe your products are essential to the Police community?
Don't our women who serve and protect want to have the ability to do so with a sense of style? All women want the same opportunity to protect themselves while enhancing their wardrobe and aren't willing to compromise fashion for function.
What has been the biggest challenge your company has faced?
As with most newly developed product lines, I believe the biggest challenge is meeting all the needs of your valued consumers. Concealed Carrie is always open to the comments and suggestions of our clientele. As a response to feedback, we are currently expanding the line to lighter and less expensive solutions while designing clothing for those women who prefer other concealed carry options.
What makes your company unique?
Concealed Carrie doesn't claim to be the first company to produce concealed carry options for women. We've merely expanded and improved on the current market's available solutions. The consensus of countless reviews and comments agree, "Where have you been? Ever since I started carrying, I've been waiting for a fashionable solution. This is it!  I've had ten people compliment the bag and ask me where I got it. They don't even know that I'm carrying a firearm, which is the way it should be."
What do your customers like best about you and your products?
Attention to detail and quality of material is an essential aspect of Concealed Carrie. Our fashion forward designs compare to today's most desirable designer styles, while providing notable practical features.
What is the most rewarding part of serving the first responder community?
Concealed Carrie offers a unique guarantee. Produce a police report verifying that your Concealed Carrie product defended yourself in an altercation by shooting through the handbag, and we will replace it for free. Naturally, we would prefer a women draw and respond safely and securely should they need access to their firearm, but if time is of the essence, then safety is our primary concern. If we can provide a solution that allows women to protect themselves in a situation that would otherwise leave them unprotected, then our contribution to their safety is the biggest reward of all.
Is there any fun fact or trivia that you'd like to share with our users about you or your company?
Up until now, men have had all the cool toys. They have James Bond. Now, the girls have "Carrie."
What's next for your company? Any upcoming projects or initiatives?
Concealed Carrie plans to introduce "Carrie's Closet" later this year. It will consist of microfiber and leather trimmed handbags that will be lighter in weight and priced lower than our current all-leather designs. We are also working on a fashion forward denim jacket and athletic wear for the fashionable female shooter on the go.
To learn more about Concealed Carrie, visit www.concealedcarrie.com.