Forget the lumens: Top 4 tactical lights from SHOT Show
In a tactical flashlight, the usability, design, and features are much more important than lumens
---
I looked at about two dozen flashlights and other lighting products at SHOT Show. Everyone in the "tactical" industry makes one and they all have a different definition of what makes theirs "better." Just to be clear, I test more than 40 or so lighting products a year.
When you hear lumens in the specs, don't get caught up in it. The usability, design, and features are much more important. We want to get the tactical advantage, not vaporize suspects and fellow officers. 
Here are four lights I came across at the show that are truly outstanding.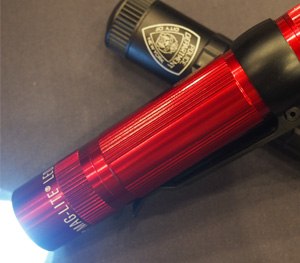 MAGLITE XL200
The guy at the MAGLITE counter, who turned out to be Donald Keller, steered me toward the XL200. 
Donald Keller was an LASD Deputy in the mid 60's when he changed the entire landscape with the Kel-Lite flashlight. I'm looking forward to hearing from officers who used them on duty. 
Keller showed me the XL200, which fires off 172 lumens and runs on AAA cells. It has a unique accelerometer (motion controlled) switch where the user holds it down and rotates the light on its axis. It can go from very bright (2.5 hours) to a utility beam good for 218 hours. It has several modes, including a programmable strobe. 
Besides its significant utility as a patrol light, its design is ideal for military special units:
It comes in different (low profile) colors.
It runs on cells that can be found in any country, almost anywhere.
It can be used for low profile rescue signaling. 
It has a lockout for accidental activation. 
MSRP is $64.50. 
FOURSEVENS Maelstrom MMX-360
Great lighting products are designed by engineers with an overwhelming level of curiosity, and David Chow, the President and official thinker of things-outside-the-box for FOURSEVENS, is one of those people.
The MMX-360 is a mid-sized torch, the kind I liked to tuck under my armpit when opening doors or changing magazines. It takes CR123 cells and will do a max brightness of 920 lumens making it a great day shift light. It has a very usable spill beam and center flare, perfect for lighting up a vehicle interior. 
The MMX-360 tail switch has the on/off function. There is a 360 degree pressure switch just behind the light head that allows the officer to switch modes without changing grip or hunting for it.
FOURSEVENS uses a proprietary system to clamp the cells in the tube, preventing damage to the light when the unit is dropped or shocked. The MMX-360 is weapons mountable (there is an optional remote switch).
MSRP is $100.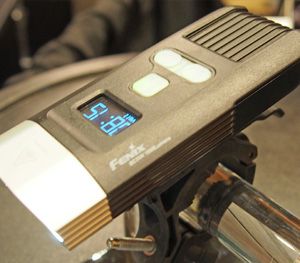 Fenix BC30R (PoliceOne Photo)
Fenix BC30R
The BC30R is a bike light that allows the officer to go full speed in complete darkness. It is micro USB-chargeable with a dual-beam and an OLED run-time display.
Unlike many lights, the battery is in the unit, not tethered by a cord. At high beam, it emits 100 lumens and runs 70 minutes. Low beam, which is as bright as my bike light, is about 12 hours.
There's a1600 burst activation for clearing traffic. 
Streamlight Siege AA
Streamlight followed up with the success of their larger Siege lantern by introducing smaller AA version. It can give up to 37 hours of light, weighs 8.8 oz and it floats.
It has the same qualities as the larger Seige lantern, but offers 200 lumens versus 340 lumens on high. Like it's larger predecessor, it has 3 modes of brightness: 50, 100, and 200 lumens, as well as a white light and red light mode. 
It's good for reducing shadows on a crime scene, but I like it for camping.

Request product info from top Police Flashlights companies
Thank You!