Grab your shades: Ultra-bright flashlight shows off versatility at IACP
Interchangeable electronic heads transform a road flare to an area light, flashlight or combo unit quickly and easily
---
By P1 Staff
SAN DIEGO — An ultra-bright flashlight caught the eye of IACP attendees at this year's conference, where demonstrators showed how its different functional modes serve distinct purposes while on patrol.
Neil Schwartz of LightModule showed off the LMPro line, described as a complete light system of rechargeable flashlights with Flare, Area Light and Flashlight functionality in one unit that keeps police officers in mind.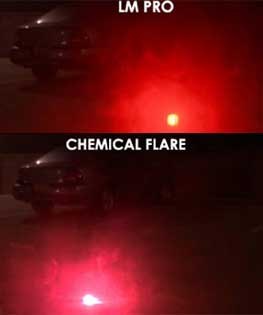 "Police officers, firefighters and emergency responders all have different portable illumination needs, so we created several different kits that cater specifically to each sector," Schwartz said.
Interchangeable electronic heads transform a road flare to an area light, flashlight or combo unit quickly and easily. When in flare mode, the brightness is superior to chemical flares.
Raul Urrutia, CEO of LightModule, said one charge will deliver about 16 hours of power, and for fun or utility, the company can program any color or light pattern into the flashlight.