SHOT 2017: Cacharme unveils sport coat for the concealed carry crowd
The vest has a dozen pockets, specifically designed to hold a firearm, spare mags, handcuffs, cell phone, wallet, pen, and more
---
During a session at the SHOT Show Law Enforcement Education Program (LEEP), Cacharme introduced their Executive, a men's sport coat. This sport coat, made in the USA (how rare is that?), was designed for anyone who needs to discretely carry all the time such as limo drivers, executive protection details, special agents, and off-duty cops. With ISIS publishing hit lists of churches, temples, and their leaders, many of them are forming their own armed protection teams and the Cacharme Executive lets you fit right in.
A Vested Interest
Unlike a standard sport coat, which was not designed to carry a firearm, the $399 Executive is a 70/30 poly/wool shell built on top of a purpose-built load bearing vest. The vest has a dozen pockets, specifically designed to hold a firearm, spare mags, handcuffs, cell phone, wallet, pen, and more. Because the heavy lifting is done by the vest and not the shell, there is no printing, and the jacket won't sag to one side. Since the pockets are symmetrical, it can be worn by left- or right-handed shooters.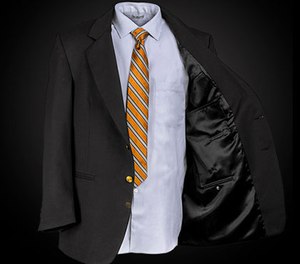 Every LEO knows if someone is wearing a concealed carry shirt just by the design, and the bad guys probably do too. And whether you are carrying in or out of your waistband, motion of your jacket or shirt could reveal that you are armed, making you the first target. Cacharme solves both problems. You can buy the company's jacket in black or blue (without the logo shown in their marketing shots), or can you buy just the vest and have your suit tailor build a custom jacket around it.
Sit Back and Relax
Since your tools are completely enclosed, there is a much smaller chance of a bad guy sneaking a peek to determine that you are carrying. If you are in an office situation or just need to hit the bathroom, you can take off your jacket without announcing you are armed.
In the Side Pocket
CEO and founder Greg Rocque said that Cacharme has partnered with an undisclosed holster maker to create firearm-specific, rake- and tension-adjustable Kydex inserts which properly hold your firearm and magazines in the correct position for a fast draw and fast reloads. Unlike some products, you can re-holster with one hand if you need the use of both of your hands. The current design can hold a Springfield EMP, S&W Shield, or similarly sized firearm. Inserts are $180 per set.
The product is self-funded and has been in design and testing for the last 16-18 months, including use in IDPA matches. The company is looking to build a network of certified trainers and will be seeking additional investors later this year. If you are interested in either, contact Bill Haas, their business development executive, on their website.

Request product info from top Police Holsters companies
Thank You!