2 reasons why S30V steel is the best
The design of S30V steel is such that a blade will be sharper, stay sharper longer and resist cracking under a sudden stress
---
This month I tested two knives from two different manufacturers that have only one thing in common: S30V steel.
S30V steel
S30V is a fine-grained steel developed for toughness and its ability to hold an edge without compromising other qualities like workability and stain resistance.
S30V is derived from modern powder metallurgy, whose processes allow for qualities that did not exist 25 years ago.
The design of S30V is such that a blade will be sharper, stay sharper longer and resist cracking under a sudden stress.
As everyone knows, steel design is always a compromise. For example, some steels can have a high degree of edge retention, but lack in another quality. S30V has toughness, wear resistance and edge-holding quality in the same package. Some say S30V is one of the best steels for a duty blade. I agree.
Benchmade Mini-Presidio II (575 BK)
I tested the Benchmade 575BK Mini-Presidio II. This is one of several of the Presidio Series knives designed for professional use.
The Mini-Presidio II was developed as a duty knife for assignments that call for lighter kit and rough handling. This test concluded that this is a "do-everything" knife, and one I would pick over the Bugout, the Benchmade everyday carry knife that has earned high marks in the industry.
The Mini-Presidio II has a traditional drop point blade, with an ambidextrous thumb stud opener. I am partial to a drop point blade for patrol use because it has the strength of the "tactical" designs like a trapezoidal point, but the full length of the blade is usable. The false edge on this blade has a deep taper, giving it a powerful backbone, while allowing a generous curve in the tip.
The Mini-Presidio II uses CF elite scales, which are made of a fiber-reinforced nylon polymer. This material is one of the lightest and rigid-scale materials from Benchmade. The grip pattern consists of deep diagonal lines, peppered with dots between these lines. There is jimping in the thumb position and a jimped fingerguard swell where the pointer finger rests. The handle design thickens where the hand meets the blade, allowing precision control of the entire blade without sacrificing a full power thrust. This is one of the most useful knife scale designs ever produced on a working knife, and it is perfect for the law enforcement trade.
The Mini-Presidio II uses an axis lock from the original Bill McHenry and Jason Williams design. In the folding knife world, this is the smoothest and sturdiest engineered blade locking device in the business. The axis lock places a spring-loaded deadbolt into an engagement area behind the blade, making the folding knife indistinguishable from the fixed blade. Drawing it rearward from either side of the lock releases it completely, allowing the blade to close almost under its own gravity. The axis lock mechanism has unprecedented safety.
I have several Benchmade knives. As a self-proclaimed ergonomist, I have added sandpaper and texture to several of them (and other brands) in critical areas. The 575 BK-1 has the one of the best non-directional grip for a knife this size, and it needs no improvement. With the pocket clip mounts on the far end, it is a reversable tip-up design, for those of us who carry their knives "correctly." The Mini-Presidio II rides deeply in the pocket and smoothly deploys one-handed.
The 575BK is tempered to 58-60 HRC. Tempering is another part of the art of knife making, similar to raising children. That is, the steel has certain inherited characteristics, and tempering works within the parameters of the characteristics, improving the overall behavior.
Benchmade has a history of showing respect to fine steel and the Mini-Presidio II excelled in cutting and wear testing. I "accidentally" dropped it on several granite surfaces while enjoying my time in the Sierras, and used it for fire prep and camp chores. In cutting sessions, I was able to demonstrate why S30V is used in hard use patrolling. After cutting, I examined the edge under magnification. This knife was engineered for abuse, and will be around for generations.
S30-V is a little more expensive to produce than several steels of similar quality, but knife manufacturers rarely show any evidence of passing the increase on to consumers.
At MSRP $160 for the Mini Presidio II, this knife is a bargain, with all of the features of a knife at twice the price. For those who prefer a 3.72" blade, there is a Presidio II (570-1 MSRP $155).
Shaman (C229GPBK)
I torture tested the Spyderco Shaman (C229GPBK) enough to get to know it intimately. This turned out to be the go-to knife when the blade is going to take a beating.
The Spyderco Shaman is a U.S. designed and manufactured compression lock knife with a S30V blade, skeletonized steel liners and G10 scales. With a 3.12-inch handle blade and an 8.25 overall length, it is palm filling and capable of work usually reserved to fixed blade knives. The test concluded that the Shaman could not be beat when it came to cutting, thrusting and chopping chores for an EDC knife.
The blade on the Shaman is wider than most tactical knives, which adds to its great utility. It has backbone and finger choil jimping, plus a relief cut behind the choil, allowing for an extended spear grip or hammer grip as the situation requires. The G10 scales have a subtle texture and there are four mounting positions for the pocket clip.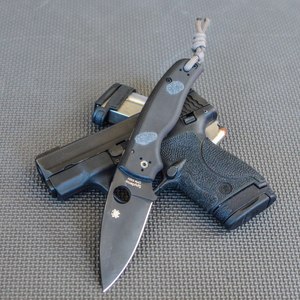 The blade is a full flat grind, available in plain steel or DLC (diamond-like-carbon) finish.
The Shaman has several distinguishing features. First, it uses a compression lock, which shares the design and strength of a liner lock, except the blade is released by pressing the steel spring back against the steel liner from the back of the handle. This means that the blade can be closed into the handle without fingers in its path. Deployment is smooth, quiet and consistent.
The Shaman is U.S. made, which means it shares the heritage with two other icons: The ParaMilitary 2 (C81GPD Series) and the Manix 2 (C101GPDB Series), both of which are at the pinnacle of LE-use blades. The three knives listed here also have another thing in common. Spyderco generally goes with thick pieces of steel. In the case of the Shaman, it is .145 inches. Compared to the Mini Presidio II's .114 inches, that's a noticeable difference.
As a carry knife, the Shaman is a little wider in the pocket, and a bit heavier than similar models, like the PM2. This weight difference is worth it when it is called upon to do some real cutting. During my tests, I used cutting strokes to simulate slicing open vehicle seats, which requires a full-sized handle and significant blade pressure. Using the Shaman will prove to the average user that well-configured knives will prevent injuries to the hand. The same goes for cutting rope, opening sheetrock, and slicing through layers of duct tape, all of which I have done on duty with a full-sized knife.
I added some textured grip tape to my Shaman, but the contours in the handle design will be enough for most users.
I do not know of many duty-worthy knives that have handles capable of a real pounding without dislodging the knife from the hand. This knife does not transfer shock to the hand when used for chopping like other products. It can handle full thrusts into rigid materials like car doors and sheetrock, and the DLC finish prevails.
I personally do not think the Shaman is the best-looking knife in my collection, but it has "swear me in for duty" (and "USA Made") written all over it.
The MSRP for the Shaman is $289.
Now What?
Now that we have looked at both knives, what do we do with this information?
First, I did not review "pretty good" knives on purpose. These products are from manufacturers with outstanding reputations, and they will serve you well during moments of sheer terror. Buy any knife from Benchmade or Spyderco, and you'll be fine. I picked these products for review because I have had equipment fail on me (which is how I got into this anyway: I break things). The Mini Presidio II and the Shaman will not fail you and you'll be passing them down to your grandkids.
If weight alone is your duty consideration, pick the Mini Presidio II. For example, if you wear polo shirts for regular patrol, this is probably your knife. I like this model for hiking and running also.
If your assignments are multi-faceted, pick the Shaman. For example, if dispatch regularly tells you to "suit up" (for a callout), and your kit for that is in your patrol car already, the Shaman is your choice. When I am on the range, this is what I often carry because I find myself cutting target bundles and trimming target stakes with it.
Above all, stay safe.

Request product info from top Police Knives companies
Thank You!