6 things you should know before buying a survival knife
There may not be any single 'best survival knife' so what's important is to know what will fit your needs and how to find it
---
Editor's Note: The following article is part of our new TacticaList series, a collection of expert columns and features on all things tactical — from fishing and hunting to camping and shooting. These columns are featured in our monthly TacticaList newsletter. Check out our most recent issue and let us know what you think! Click here to subscribe to the TacticaList.
When a member of Quora asked what some of the best hunting and survival knives are, fellow member and hiker Alan English gave a detailed answer as to what one should be looking for when shopping for a survival knife (and why it's not to be confused with a hunting knife). Check out his response and add your own advice in the comments section below.
The best hunting knife is not the best survival knife and the best survival knife is not the best hunting knife. A hunting knife is used for field dressing, cleaning, skinning and boning. A survival knife is used for fire building, shelter building, chopping, batoning, prying, hammering, spearing dinner and dozens of other tasks. You don't want to damage a fine hunting knife by using it for survival chores. 
Survival Knives
The best survival knife will be a strong, full tang, fixed blade knife. It will also have a very comfortable handle, and a blade that is easy to control and not too large or too heavy.
 
A fixed blade survival knife is the best type of knife for outdoor survival. These knives are designed to take abuse and punishment. I like lanyard holes and lanyards on survival knives.
 
In choosing a survival knife, sometimes the best place to start is to discuss what isn't ideal. Folding knives, including multi-tools, are often a poor choice. Their blades can fold on your fingers, even if it has a locking mechanism. Folding knives can also break at the joint during vigorous use. Additionally, the angular handles on these types of knives often cause blisters when doing significant carving.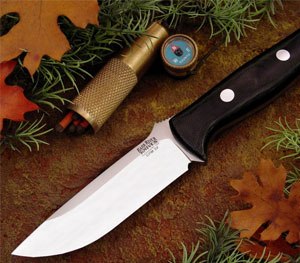 The elements of a good survival knife are:
1. Tang — The tang of a knife is the portion of the blade that extends down into the handle. The tang and the blade are one solid piece of steel. A 'full tang,' or tang that goes all the way to the base of the handle, is considered the best for a quality survival knife. The full tang gives the entire knife strength. On cheaper knives the blade is only connected to the top of the handle and can break off.
2. Handle — The handles on survival knives vary widely. Some are hard rubber, others polymer. As I mentioned previously, avoid hollow handles. A hollow handle means the knife is not full-tang construction.  Carry a good compass, not the cheap button compasses put on cheap survival knives. I like a lanyard hole in the handle so that I can fasten a lanyard and wrap it around my wrist when I am chopping so that the knife doesn't fly out of my hand.  
3. Blade metal — Survival knives generally come in two types of steel: stainless or carbon. There are also numerous variations of each kind of steel. Which is better is a huge debate and I won't recommend which one you should choose.  The main differences: stainless steel is virtually indestructible. It can take a beating and last a long time without rusting. However many people say stainless blades lose an edge faster than carbon and some say it is harder to sharpen stainless steel. Carbon steel knives are usually known to hold a good edge longer than stainless steel, but will rust faster in the elements.

4. Blade design — Straight blade or serrated; drop point, clip point or tanto. Again, this one comes down to a debate over which is better; straight blade or serrated. A straight blade knife will work better for chopping wood and is much easier to sharpen. A good smooth stone can even be used to sharpen a straight blade if you are without a whetstone, whereas a serrated edge almost always takes a special sharpener. Serrated will slice through cordage even if the knife isn't particularly sharp. A drop point or clip point offer good control. A drop point is best for hunting knife applications. A tanto point with the extra angles is fine for tactical knife uses, but not optimal for survival situations. A lanyard hole is hole in the blade or the handle where you can fasten paracord. I like a lanyard hole in the handle so that I can fasten a lanyard and wrap it around my wrist when I am chopping so that the knife doesn't fly out of my hand. Others like lanyard holes in the blade where it meets the handle so that you can fasten paracord and make a sturdy spear. 
5. Blade length & thickness —  Size matters. A smaller knife is easier to carry however is not as good at some of the heavy duty chopping chores at which larger size knives excel. Large knives can often replace the need for a hatchet so they can actually cut down on the gear that you might need to carry.  However big knives can be a pain to carry on your belt.
 
Most survival knives fall within the range of 6 to 12 inches. Any less and it might not be big enough to do the things you will have to get done in a survival situation, like chopping wood. Larger knives are usually better for chopping wood. However, start getting much bigger than 9 to 10 inches and you reach the point where the knife is getting too big to handle and carry effectively and might be more of hindrance than a tool.
A good general rule is about 3/16 - 1/4 of an inch thickness is the best for survival knives. A knife of that thickness will be extremely solid and able withstand the abuse of wood chopping, batoning and prying. You do not want a survival knife that has a lot of flex in the blade. Batoning is where you hold the knife and pound on the blade with a piece of wood to split a larger piece of wood.  
6. Sheath —​ [The sheath is] often overlooked but very important. A survival knife can only help you survive if you are carrying it. The sheath should be sturdy and comfortable.  A drop-leg tactical sheath is probably silly in most survival scenarios. 
I don't think any single knife can truly be the "best survival knife," so just remember, quality counts. Consider your needs carefully. Once you get a good knife, take care of it. Keep it clean and keep it sharp. 

Request product info from top Police Knives companies
Thank You!