Handcuffed man steals Fla. deputy's car
After Cody Dwayne Hynum was handcuffed and put in a patrol car, police said he kicked out the rear driver's side window and hopped into the driver's seat
---
By Scott Andera
The Palm Beach Post
WALTON COUNTY, Fla. — A wild string of events, including a stunning contortionist act straight out of an action movie, landed a Texas man in a Florida Panhandle jail on a slew of felony charges.
Police say Cody Dwayne Hynum, 30, stole a vehicle on Friday, crashed it on Interstate 10 before setting it on fire, ditching it, and then trying to steal a Jeep from a home, only to be thwarted by the gun of the Jeep's owner.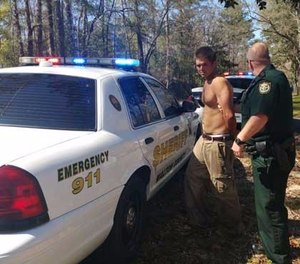 But Hynum wasn't finished. Far from it, in fact.
After Hynum was handcuffed and put in the back of a Walton County Sheriff's Office patrol car, police said he kicked out the rear driver's side window and hopped into the driver's seat — all while still cuffed.
From there, the car "driven" by Hynum hit a fence, went down a driveway and ran into a barrier, at which point, the Texan took off on foot into the woods. Deputies caught him shortly afterward, hitting him with a Taser and cuffing him securely this time.
Hynum's final tally as of Sunday, according to police: nine felonies, including two counts of grand theft auto, two counts of burglary, escape and resisting arrest with violence. He remains in the Walton County Jail on $25,000 bond.
———
©2017 The Palm Beach Post (West Palm Beach, Fla.)
McClatchy-Tribune News Service

Request product info from top Police Restraints companies
Thank You!