Larson Electronics introduces new LED light emitter
The 70 Watt LED light emitter was developed for law enforcement applications
---
By Police1 Staff
Larson Electronics recently released its LED10W-70-M LED light emitter, designed with a magnetic mount base. Advantages of these LED lights include waterproof capabilities, heat control, and heavy duty aluminum housing construction for durability, the company said.
The Larson Electronics LED light emitter produces 6,020 lumens of light while drawing 70 watts of power from a 12-volt electrical system. Made up of seven CREE XLamp MC-E ten watt LEDs that produce 860 lumens each and are paired with high purity optics, the light emitter can produce a 20 degree spread spot beam that is 750 feet long and 110 feet wide.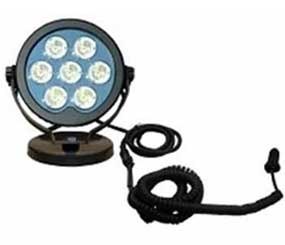 The LED light emitter is mounted with a 200-pound grip magnetic base and can be adjusted 270 degrees. Heavy duty aluminum and strong polycarbonate lens paired with IP68-rated waterproofing allow the product to remain functional in harsh salt water environments, the company said.