PRESS RELEASE
Command Light launches website redesign with new light tower configurator
---
FORT COLLINS, Colo. — Command Light, a leader in emergency lighting, has redesigned its website, commandlight.com, to mirror its redesigned catalog and introduce a new, interactive light tower configurator that helps fire and emergency departments browse Command Light's product lineup. Command Light, based in Fort Collins, has manufactured light towers, traffic advisors and compact lighting for more than 25 years.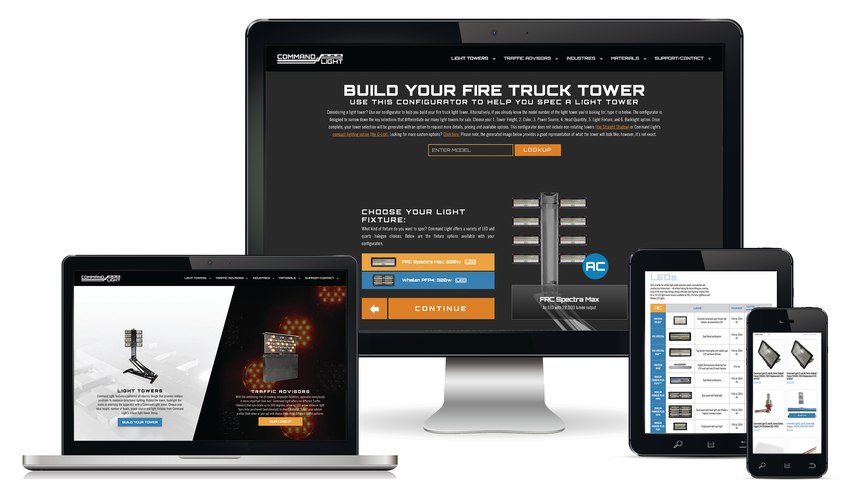 The website's new configurator allows departments to "build" their own light tower by selecting the tower's size, color, power, head quantity, fixture brand and optional backlight. Once built, the configurator provides tower specs that can be saved or printed. Additionally, customers can obtain Word Specs for their truck planning committee, or they can request pricing for the configured tower. To build a light tower, visit commandlight.com/build-your-fire-truck-light-tower.
The website also features a number of pages dedicated to specific topics like Command Light's patented differences, a light tower vs. perimeter light comparison study and industry pages that help promote Tow and Law Enforcement products. The site also includes a number of tools for existing customers, including warranty registration, product manuals, technical videos and a replacement parts store.
About Command Light
Command Light, located in Fort Collins, Colo., has specialized in scene lighting for the emergency industry for more than 25 years and features only the best light towers, compact scene lighting, traffic flow boards and other safety lighting products. Command Light's towers are available in a variety of configurations, including AC or DC, different tower bases, varying output choices and a long list of options, like backlighting to illuminate both sides of the scene.
Request more info from Command Light
Thank You!