Urban Shield 2013: First responders declare, 'We have the watch!'
35 elite SWAT teams from as far away as Brazil joined up with fire and EMS responders in the annual exercise organized and executed by Alameda County Sheriff Gregory Ahern and his team
---
At the Bank of America Building in the early afternoon on a sunny Saturday in San Francisco, the Redwood City (Calif.) Police Department SWAT team arrived to deal with a simulated attack in which armed attackers had already "shot and killed" at least two deceased victims — both of them reportedly security guards.
Redwood City SWAT came in and made short work of the two gunmen on the 31st floor they'd been briefed about — they didn't even know about the third guy on the 52nd floor until they'd conquered the 31st.
They immediately moved to the tactical space that once held the world-famous Carnelian Room and quickly solved that problem.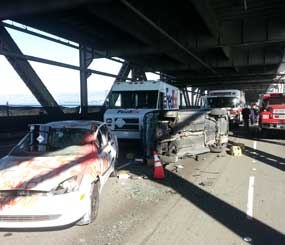 Thus began — for me at least — the 2013 Urban Shield exercises. Sure, I spent most of Friday at the Technology Expo and Education Seminar, but that's all just so much foreplay until the teams start running the drills.
Giving Fire and EMS More 'Playing Time'
My fifth Urban Shield was without doubt the best one so far. This year, there was only one international team competing — Brazil — but there were many international observers. Everywhere I went during exercise, I met public safety officials from all over the world — Colombia, United Arab Emirates, Switzerland, Netherlands, and other countries — spending their weekend taking an off-the-beaten-path tour of the San Francisco Bay Area.
There were, as always, numerous training events specifically designed for our fire and EMS partners. In fact, there was a bigger presence of those first responders than I'd ever before seen. There were three exercises in which there was full integration of fire and/or EMS professionals into the police tactical scenarios (check out my article on the drill held out at the Fremont [Calif.] Fire Training Facility for more on that).
By pure luck, I ran into my friend J.D. Nelson — the PIO for Alameda County Sheriff's Office — shortly after my arrival at the now-closed eastern span of the San Francisco-Oakland Bay Bridge.
Nelson pointed out how much more Fire and EMS involvement there was in this year's Urban Shield exercises.
"This year, the fire departments have definitely expanded their exposure to Urban Shield. There are a lot more scenarios for fire this year, and that's great because whether it is a natural disaster or a man-made calamity, these are the kinds of things that are going to happen," Nelson said as he motioned to a nearby fire truck.
"Also new this year is that we get to use the old section of the Bay Bridge. Last year we used the new section because it hadn't opened yet, and now we get to use the old section because of the change in the traffic flow. That's good because in the Bay Area we have all these bridges that of the same type of construction as this span."
The Bay Bridge played host to two scenarios this year. There was a fire/hazmat drill that had firefighters clearing a scene in which terrorists had stolen a FedEx van and used it to launch a chem/bio type assault.
They had a helicopter. They had freighters in boats below the span. I don't like heights all that much, so I don't even know what those guys were doing on the ropes between the deck afloat on the water and the deck on which I stood. Stuff I wouldn't love doing, that's for certain.
A Rarity: One Open Slot
Boston PD had been on the schedule to compete, but when the Red Sox beat the Tigers to earn their berth in the 2013 World Series, Boston SWAT had to cancel their planned trip to California.
Boston merits special mention in this space not because of their absence, but because that city has held two Urban Shield exercises of their own, and has competed here in California. There is little doubt that Urban Shield helped those heroes be ready to respond to that atrocious attack on the Boston Marathon in April.
"They specifically credited Urban Shield," Nelson said, "Their commanders said, 'I knew we could go 48 hours. We'd done it before at Urban Shield.' Just that simple," Nelson said.
Bringing Texas to California
There were two teams from Texas among this year's competing teams. When they go home, they're going to have sharpened the blade in a big way.
That is noteworthy because a very nice football stadium was recently constructed in the Dallas area that stands a good chance of hosting the Super Bowl many times over for many years to come. Needless to say, the two-week festivities that culminate in the biggest professional football game on the planet would make a very inviting target for both foreign and domestic terrorists.
"The fact that Dallas is here is great for everybody," Nelson told me. "We always like to have different teams come from different parts of the country — and the world — because they learn from us and we learn from them. It goes both ways, and that's the way it's designed."
If you want to get more information or want to look at getting your own team into the mix in coming years, visit the Urban Shield website. Get your team on the list early — slots for competing teams fill up fast.
Whether or not you can be part of Urban Shield 2014, please take from my reporting on this year's event one thing: You are the defenders of your AOR. Every community in America is counting on you.
The motto for this year's exercise was "We have the watch!"
That we do.
Stay safe, my brothers and sisters.