PRESS RELEASE
Black Hills Ammunition introduces a new Precision Rifle Cartridge for 2023
---
New for 2023- 6.5 PRC (Precision Rifle Cartridge) 143 Gr. ELD-X®
Think of this as a "step up" from the 6.5 Creedmoor, one of the most popular new cartridges of the past  decade. The 6.5  PRC (Precision  Rifle  Cartridge)  pushes  the same  modern  6.5  high BC projectiles another 250 fps faster than the 6.5 Creedmoor and with comparable accuracy. Comparisons can be made to the 264 Winchester Magnum, the 6.5-06, and one of our favorites, the 6.5-284. Ballistics with these  calibers were similar, but the 6.5 PRC has advantages over all of them.

The 6.5 PRC was designed by George Gardner of GA Precision fame, working with our friends at Hornady. The advantages of the 6.5 PRC over the prior mentioned 6.5 cartridges are a shorter action than all of the above, better  efficiency  than the .264  Win mag, and being  specifically  designed  for use with modern high B.C. projectiles and a wide selection of modern rifles chambered for it. For our first loading, we chose  to load this cartridge with the Hornady 143 grain ELD-X®. This bullet combines high B.C. and great match level accuracy with the terminal performance of a really good long range hunting bullet.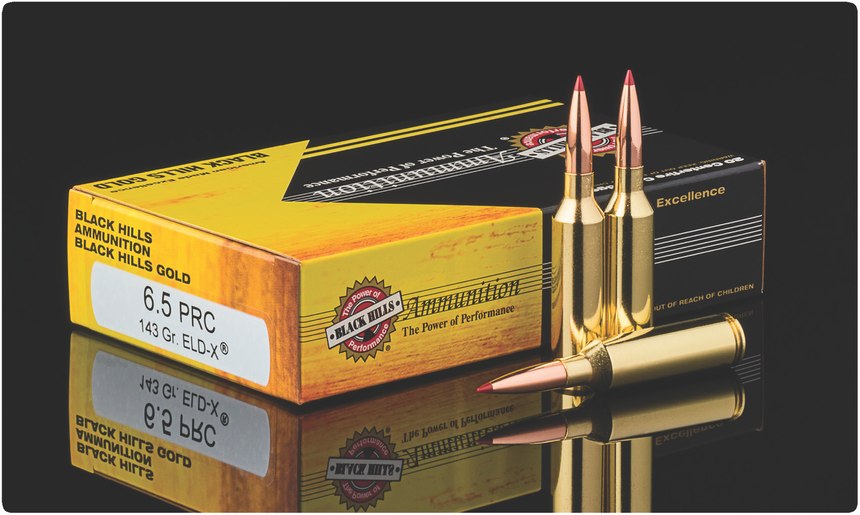 About Black Hills Ammunition section:
Our recipe for success is to make ammunition the only way we know how, the best it can be, and further, to treat our customers fairly and provide outstanding personal service. This simple formula has worked for us. We would be honored to share this homestyle recipe with you. We now have a crowded 21,000 square feet of manufacturing, and supply thousands of loyal dealers across the country. We produce new ammunition for all four branches of the U.S. Military, including all current contracts for 5-56 match ammunition. We supply ammunition to most the U.S. firearms manufacturers and many custom gun makers. In addition, law enforcement agencies nationwide rely on our ammunition for duty and training. Visit black hills ammunition, inc. online for more information.

Request more info from Black Hills Ammunition, Inc.
Thank You!