PRESS RELEASE
Sharps Rifle Company Launches "Relia-Bolt" at 2014 SHOT Show
---
Sharps Rifle Company (SRC) will introduce the "world's most reliable AR/MSR bolt" at the 2014 SHOT Show, January 14, 2014 in Las Vegas.
"After several years of design, engineering and testing the Relia-Bolt is available for AR/MSR owners and users," said Jay Lesser CEO of SRC.
The new bolt features a patented design that includes rounded and tapered lugs which virtually eliminates jamming in AR/MSR weapons. Relia-Bolt is made from steel that is 75% stronger than standard issue bolts. A special Teflon type coating furthur enhances bolt operation and maintenance as well in the U.S. manufactured product.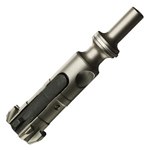 ;"Relia-Bolt addresses the key challenge of AR/MSR operation; jamming," said Lesser. "We are confident that our product helps eliminates that issue."
Dealers can order Relia-Bolt from firearm distributors and wholesalers. Relia-Bolt will retail for $149.99.