PRESS RELEASE
Team One Network Introduces Smith & Wesson Armorer Courses
---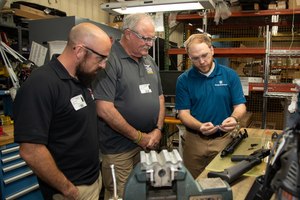 Fredericksburg, VA – Team One Network announced their collaboration with Smith & Wesson to provide Smith & Wesson armorer training on the S&W M&P and M2.0 pistol as well as the M&P 15 rifle to military and law enforcement personnel.
Smith & Wesson armorer courses taught by Team One Network will focus on nomenclature, field stripping and maintenance, safeties and safety checks, detailed disassembly, troubleshooting and minor repairs. All armorer courses will be 1 day/ 8-hour courses. Students will be provided with both the weapon and all required tools to complete the course.
"Smith & Wesson is committed to the after sales support of our professional customer base." Said S&W's Matthew Fehmel, Senior Director of Global, Professional & International Sales.
"Our partnership with Team One Network helps us extend our reach and deliver world-class maintenance instruction to meet the needs of all of our customers in a timely manner."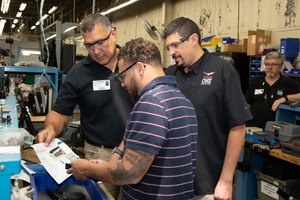 "We are honored that Smith and Wesson has selected Team One Network to provide armorers training programs for them," said John T. Meyer Jr., President of Team One Network. "Our team of armorer instructors have more than 100-years of combined armorer experience. Their passion for the firearms is rivaled only by their desire to train." 
Team One Network has the ability to bring Smith & Wesson armorer training to any location for group or department training. They also welcome individuals to attend scheduled events across the country.
About Smith & Wesson
It was 1852 when Horace Smith and Daniel Baird Wesson made their dream of creating a repeating firearm, using a self-contained cartridge a reality, and made history. Over the next 169 years Smith & Wesson perfected the American sidearm to become one of the world's most respected brand of firearms. Since 1852 Smith & Wesson has empowered Americans with the freedom, equality, and security promised by the Declaration of Independence and Guaranteed by the Bill of Rights. It is this sense of safety and security that frees us to pursue our goals and dreams, define our future, and fulfill the promise of America. To learn more, visit www.smith-wesson.com  
About Team One Network
Team One Network is dedicated to providing law enforcement and military with the most current and technologically advanced training courses available. Team One Network's professional instructors and consultants are recognized as subject matter experts both nationally and internationally. To learn more, visit www.teamonenetwork.com

Request more info from Smith & Wesson
Thank You!