10 excellent gift ideas for firearms enthusiasts
Although some of these are a bit off the beaten path, these high-quality products are bound to please and will serve your firearms friends (and you) well
---
Getting tired of getting a new sweater, tie or socks for Christmas? Having a hard time figuring out what to buy someone or yourself for Christmas? Try out these new gear ideas and suggest them to your family and friends.
Taran Butler is a world class shooter and has a new site dedicated to high performance parts and gunsmithing. Check out the basepads for Glocks, S&W M&P, and Springfield XD-M. The smaller basepads increase magazine capacity by about three or four rounds for .40 and/or 9mm — the larger ones increase round count by five or six. They have worked flawlessly for me all year long. They come in assorted colors so if your significant other wants something other than basic black, there are some nice color options to choose from. Lots of good gear on this site and the gun packages are awesome and used by some of the best in the world. Be sure to check out the trigger connector kits if you want a smoother trigger that will still break at acceptable levels for on-duty and off-duty carry if your department allows upgrades that increase performance.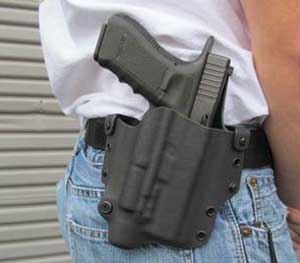 These barrels represent a significant upgrade in accuracy over standard barrels and with conventional rifling, allow you the option to use lead bullets if you wish to reload them as a less expensive alternative. I use them in every match gun I own and they shoot extremely well. For my Glock 29 backcountry gun, I am going to use the extended barrel that KKM sells so that I get the same velocity as the bigger Glock 20 in a more compact package.
Timney triggers have been around for a long time and they have been making superior triggers for years. They are affordable, not finicky, and really make a world of difference in terms of trigger control and precision at speed for the M-4/AR-15 platforms. The Remington 700 triggers come in a new lighter version that I prefer for precision shooting for my hunting rifles. Stock factory triggers are heavy and clunky and work against your attempts at precision. 
There are many Kydex holster companies out there. However, the AIWB George is undoubtedly the best I have found for my main mode of concealed carry. Coupled with either the slanted or straight IWB mag pouches, I truly feel like I am not compromising on speed of acquisition and ease of carry combined. For backcountry use, I am going to get one for my Glock 29. They are awesome with my Glock 19 or 23.
I prefer the high ride version with the split belt loop to hook on either side of a belt loop if I choose to do so. They also make some decent looking OWB holsters though I have not worn them as yet.
These little gems screw onto the handguard of your shotgun and allow you to do a lightning fast single load if you happen to run dry and need a near instant next round. They are used for 3-Gun Competition shooting but are equally handy on your tactical shotgun or home defense shotgun. I have used them on my Benelli Super 90 and I'm amazed how quickly you can go from an empty shotgun and shoot the next shot. Be sure to buy several for stocking stuffers because your friends will want some too and they aren't  expensive.
Makers of plated bullets for lower cost reloading. With the sharp increase in the price of reloading components and bullets, this company has stepped up their game with truly excellent and accurate plated bullets. I used them for all training and most of my matches this year and I'm impressed by their accuracy. Being fully plated, they do not smoke like lead or polymer coated bullets do. 
The influence of 3 Gun Nation and other 3 Gun Competitions has contributed to the development of faster, lighter M-4 systems. Bravo Company USA has some new super light barrel, forend upper combinations that lead to a very accurate, fast handling carbine that weighs sub-six pounds before optics. The 14.5" or 16" barrel version with Bravo's new KMR superlight 13" handguard and a Surefire brake is my personal favorite. 
Taran Tactical Innovations is currently selling this configuration in the 14.5" with their brand of muzzle brake but they can put any brake on that makes a legal 16" and permanently pin the brake and sell it without having to go thru NFA. It makes all the other configurations feel heavy by comparison. It weighs 5.8 pounds before optics.
If you carry a small Ruger, S&W or other brand revolver for a backup weapon or want to carry something bigger for backcountry or hunting,  5 Star Firearms makes some of the highest quality billet aluminum speed loaders you can get. 
I like them because they have a speed loader to fit almost all models of revolvers and they can make them to fit a double action revolver that no one else makes a speed loader for. This is a very thoughtful gift for someone who owns or carries small or large revolvers. They also have loading blocks and "bedside blocks" to store speed loaders for quick use or loading them. The rounds do rattle a little bit in the loader which allows them line up quickly in the cylinder. 
Carry them with the Wilderness systems pouch they sell as a system on your belt and they won't rattle at all. They hold the rims of your revolver rounds securely and they won't come loose very easily.
The original wilderness belt, 3- and 5-stitch models, is one of the most widely copied designs in the world. Any good Kydex holster needs a good belt to support it. I wear the 5-stitch instructor belt with the addition of some custom features to suit my particular needs. 
One of the reasons people complain about the weight of bigger guns on their belt is because the belt does not support the gun and holster comfortably and the gun sags on the belt. With the wilderness 5 stitch belt, you can carry a fully-loaded high-capacity firearm all day and never really notice it. I wear mine constantly for work and off time. It also has a neat buckle to use as an emergency clip in device and which can double as a formidable weapon when the belt is swung.
Along with the instructor belt, consider the SafePacker holster if you do much hiking with firearms and want to carry one discreetly in plain view. They are also making smart phone pouches that look a heck of a lot better quality and durability than what I have seen out there.
Pearce makes a variety of grip extensions for Glock pistols and other brands that makes shooting the smaller models much easier to shoot. They allow you to get your little finger on the front of the grip and that gives you much more control when shooting at speed. I have them for my Glock 29 and it makes that 10mm much easier to handle when shooting. If you carry a Glock 26, 27 or the new Glock 42 then you'll love them.

Request product info from top Police Firearm Accessories companies
Thank You!