I just designed my dream, custom Glock
Yes, it's imaginary. But, this is what it looks like.  
---
Travis Pike, Police1 Contributor
I was recently asked what my dream, custom Glock would look like. Sparing no cost. I knew I would start with the Glock 19 Gen 4 because the size and popularity make it possible to customize the weapon extensively. And, like the AR-15, the Glock 19's popularity has spawned a massive market for customization, so my options are endless. 
After pondering the accessory opportunities for a while, I determined these seven additions would be a part of my imaginary, custom Glock.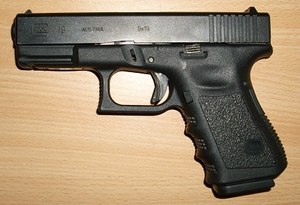 1. Zev grip service
The first step is to send my Glock to Zev to remove the finger grooves and have the grip stippled. I prefer a straight grip on my Glock and the standard stippling creates enough grip texture to hold onto my gun regardless on the conditions. 
2. Zev dimpled threaded barrel replacement
The Zev replacement barrel is a drop-in upgrade I can do at home. This drop-in upgrade is a dimpled, match-grade barrel that is threaded to accept a compensator, a muzzle brake, or a suppressor on the end. 
These barrels have an incredibly precise fit that aids in accuracy. The dimples reduce weight and improve cooling without lowering the barrel's strength. The threading is a standard ½ x 28 pitch.
3. Zev Hexagon with RMR cut 
The Zev Hexagon slide is cut with a grip surface on the front and rear of the slide. It's pre-cut for a Trijicon RMR and features an option for suppressor height sights. These slides are cut for tighter tolerances that increase your Glock's accuracy. The finish is tough as nails and comes in a variety of color options. I would select the titanium gray for my custom Glock. 
4. Trijicon RMR Dual Illuminated
The Trijicon RMR is one of the strongest miniature red dots on the market. It fits perfectly on the Zev slide mentioned above. The dual illuminated nature means it will never need a battery. Instead, a combination of fiber optics and tritium absorbs light to power the system. I'd prefer the 9-MOA green dot reticle. 
5. Lone Wolf Alpha Wolf Compensator
I won't let the end of my Zev threaded barrel go to waste. Even though a muzzle brake is an option, I'd prefer a compensator. The Alpha Wolf Compensator by Lone Wolf will turn the 9mm Glock 19 into a kitten. Recoil and muzzle rise is almost completely eliminated. The 9mm Alpha Wolf compensators are threaded to ½ x 28 so it matches the barrel perfectly. 
6. Haley Strategic Skimmer Trigger
Travis Haley is famous for his contributions to Magpul and the AR-15 platform. The new Skimmer Trigger is designed for 9mm Glocks in both Gen 3 and Gen 4 platforms. The Skimmer Trigger has a pre-travel reduction mod. Once you move past the first stage the trigger breaks cleanly and is very crisp. This is a drop-in kit I can install at home in less than 20 minutes. It's also made entirely from Glock factory parts, which means no compromise in quality. This is the best Glock trigger in my opinion. 
7. Selecting an extended magazine
Standard Glock magazines are pretty good and do not need to be replaced, however, it's not about need with this customized Glock – it's all about fantasy. I'd throw ETS magazines into my dream Glock 19. They are translucent and look amazing. They are also reliable and more varied than standard Glock magazines. ETS offers a variety of extended magazines. You have options for 31 rounds, 27 rounds and 21-round in the extended magazine category. 
ETS also offer standard capacity magazines in 15 and 17 rounds. The translucent nature makes it easy to see your ammo count and the type of ammo loaded in the magazine. 
This is the custom Glock I would design. This is only one configuration of literally hundreds available. One of the Glock's strengths as a series of firearms is their aftermarket support. You purchase triggers, grip frames, lasers, magazines, slides, optics, iron sights, and just about anything else you'd ever need to build a dream gun. With Glock's aftermarket, you can create a truly unique piece of gear. 
How would you customize your Glock?
 

Request product info from top Police Firearm Accessories companies
Thank You!